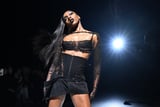 Ziwe can now officially add "runway model" to her résumé. The talk-show host and comedian, famous for her ability to goad her guests, just brought her fearless energy to Mugler. Ziwe made her runway debut at Paris Fashion Week on Jan. 26, walking in the boundary-pushing fashion house's fall 2023 show dressed in a lacy balconette bra and matching corset. Her all-black look included a micro miniskirt, romantic velvet accents, and lace details.
Ziwe's look was accessorized with knee-length boots, gloves that ran all the way up her arms and across her collarbone, and a headband that kept her hair pulled into a sleek high ponytail. "Are you ready to own it, baby?" she asked "Real Housewives of Beverly Hills" star Lisa Rinna, who sat in the front row. "I f*cking came out owning it, baby," Rinna responded. "Well then, I'm gonna own it too," Ziwe said, turning and strutting down the runway, her hair swinging from side to side.
"Thank you to the brilliant @cadwallader for including me in such an iconic show!!!! what an incredible team!!!!!!!!" Ziwe later wrote on Instagram with photos from the show. "This is an experience I will never ever forget. My runway debut was in couture for paris fashion week," she continued. "I met so many incredible angels there are literally too many names to list but know that I am so so thankful!!! in the words of the icon lisa rinna, own it baby." Read on to see Ziwe take her larger-than-life personality to the world of high fashion.