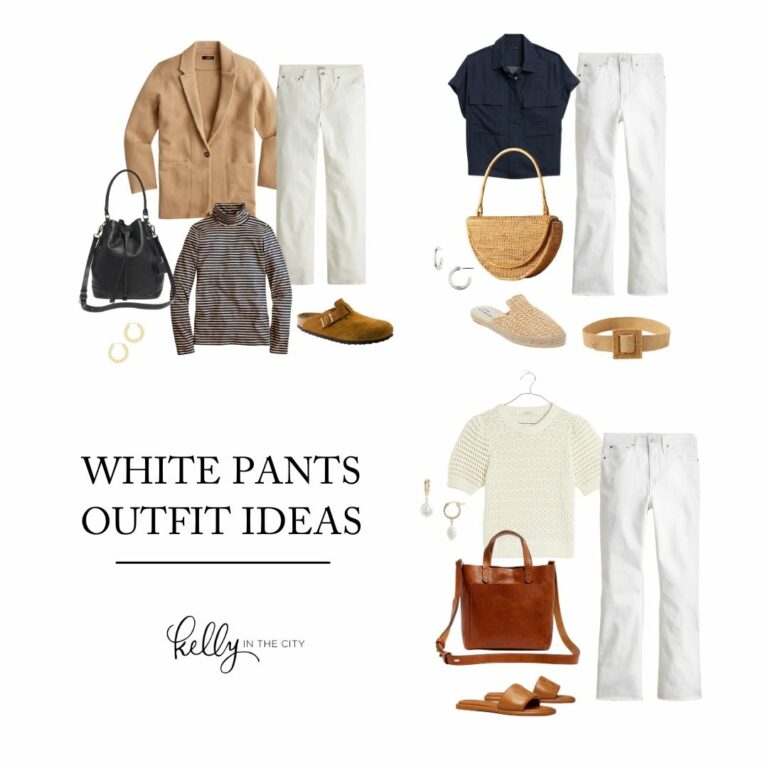 As the spring season is rapidly approaching, it's time to put away those dark winter clothes and embrace the light and airy vibe of the season. And what better way to do that than by donning a pair of crisp and clean white pants?
White pants are not only trendy but are also a fashion-forward alternative to a basic pair of black pants or blue jeans. With their versatility, you can pair them with anything and wear them to various occasions – casual to formal and everything in-between.
So, with that said, I am super excited to share with you a roundup of white pants outfit ideas for women. Let's dive right in, shall we?
White Pants Outfit Ideas
Back to the Basics
Sneakers / Jeans (Also try these) Button-up Shirt / Sunglasses 
An outfit that will never go out of style. White jeans that give you legs for days + the comfiest button-up ever equals the perfect white high-waisted pants outfit for almost any occasion. Get back to the basics with this casual spring look. These white jeans from J. Crew are the highest and stretchiest pants ever! If you are looking for a less extreme version, this pair from Madewell will give you the same look with a normal high-waist and stretch. 
Simple White Jeans Outfit
White Jeans (another option HERE & all my favorites are below!) / Similar Red Ballet Flats (Sold out but similar HERE) / Old Cable-Knit Sweater (Sold out but similar HERE)
Do you guys remember when I shared the roundup of my favorite white jeans? To show you guys just how pretty a simple white jeans outfit can be, I styled them with a basic cable-knit sweater and my trademark red flats. Love the simple chic look of this outfit!
Spring Break Outfit
Navy Striped Sweater / White Demi-Boot Cropped Jeans / Woven Sisal Crossbody Bag / Jack Rogers Leather Sandals / Sunglasses / Gold Hoop Earrings
For spring break this year, we took a trip to Rosemary Beach and it was truly a blast. I wore this adorable outfit for my morning coffee run, and it was honestly so perfect for the springtime weather. Plus, the combination of wearing white pants and a striped navy sweater is always a winner in my book. 
A Resort-Inspired Look
Crochet Sweater Tee (sold out but similar HERE)  / White Demi-Boot Jeans / Pearl Huggie Earrings / Gold Cuff Bracelet (sold out but similar HERE) / Small Leather Tote Bag / Leather Slide Sandals
My absolute favorite go-to jeans for any and all occasions! Adding a knit top keeps the outfit summer-approved and a true resort-ready favorite of mine. Plus, a small but… roomy transport crossbody bag is perfect for a carry-on! 
Friday Dinner Date
J.Crew High-Rise Slim Boyfriend Jean (sold out but similar HERE) / Interlocking Sandals (sold out but similar HERE) / Short-Sleeved Striped Cardigan (sold out but similar HERE) 
Looking for a fresh and stylish outfit for your Friday date night? Look no further than this chic and effortless ensemble! Starting with a pair of white high-rise jeans, which offer a versatile and flattering base for any look. Pair with a striped short-sleeve cardigan, which adds a touch of preppy charm and sets the tone for a fun and relaxed evening. Add neutral flats for a comfortable yet polished finish. Perfect for a bike ride date or a night on the town.
Business Casual
Striped Linen Jacquard Straight Pant / Knit Blouson Top (sold out but similar HERE) Block Heel Sandals  / Dana Rebecca Bar Necklace / Tory Burch Chevron Chain Wallet
This outfit has "girl boss" written all over it! This striped linen pants outfit can be paired with a blouse, sweater, blazer, plain tee, etc. Seriously, the options are endless. Block heel sandals give an extra lift without adding too much height since striped lined pants (especially as elegant as this pair) automatically elongate your legs. Here are some more inspiring ideas on how to wear striped pants.
Road Trip-Ready
Striped Sweater (sold out but similar tee HERE) / White Ankle Flare Jeans (sold out but similar HERE) / Denim Jacket / Round Leather Crossbody Bag (sold out but love this option for this outfit) / Leather Sandals (sold out but similar HERE)
What about a white flare-pants outfit? Back when I showed off how to style a denim jacket, I fell in love with the preppy but simple look these two items create together. Pairing denim blue jeans with a denim jacket can cause a little hesitation, so having a white pair of pants is the perfect excuse to get some wear out of that denim jacket!
Garden Party Chic
Tie Shoulder Linen Top (sold out but similar HERE) / White Jeans / Daisy Stud Earrings (sold out but similar HERE) / Gold Cuff Bracelet (sold out but similar HERE) / Sunglasses / Raffia Mules (sold out but similar HERE)
Whether you're attending a garden party or heading out on spring break, this effortless and chic outfit is perfect! Start with a crisp and breathable linen tank top, which pairs beautifully with white jeans for a fresh and timeless look. You can be sipping cocktails in a flowering garden or strolling along the beach; this versatile and classic outfit will make you look and feel great. Add extra chic to this look with some cute wedge espadrille sandals.
A Preppy And Trendy Look
White Trousers / Puffy Sleeve Blouse / Lightweight Jacket / Loafers / Scarf
The perfect outfit for a weekend at the lake! The jacket is a year-round fashion that adds a fresh and timeless look. When you wear white trousers, they offer a preppy and trendy base to any look. So go ahead, dress them up, dress them down, switch up blouse patterns, and spring-ify it by accessorizing a scarf around your neck or even tied onto your bag.
Casual Weekend Look
Navy Roll Cuff Shirt (sold out but similar HERE) / White Demi-Boot Jeans / Rattan Croissant Satchel Bag (sold out but almost identical HERE) / Raffia Oval Buckle Belt (sold out but similar HERE) / Raffia Mules (sold out but similar HERE)
I wasn't kidding around when I said that these white jeans go with everything. I love to pull the look together with my Raffia light tan accessories and mules. It is an amazing balance for the blue top and completes the perfect white jeans look. 
Boho Beach Day
Lilly Pulitzer Georgia May Palazzo Pants (white pair HERE) / Flowy Stripe Popover Top / Flat Slide-On Sandals / Statement Necklace
Going to the beach calls for a bathing suit outfit (the shoulder detail on this one-shoulder bathing suit can't go unnoticed!). But, what about the days you don't plan on diving in or later in the day when you can't soak up any more sun? 
Enter palazzo pants – not only do they offer a chic boho look, but they also provide comfortable coverage against unexpected breezes. To create a white palazzo pants outfit, pair them with a flowy blouse (I can't find an outfit this top doesn't go with! Love this one too ), leather sandals, and a statement necklace for a preppy daytime look that can easily take you from the beach to a family dinner date.
Outdoor Concert
White Faux Leather Leggings / Knit Polo / Trench Coat / Ballerina Flats
I can't believe it was 10 years ago when I dove into the faux leather leggings look. (If you love the white leather pants outfit idea but not faux leather, I love these white leggings too!) Of course, I own the black pair because… who wouldn't? They are such a fun twist to so many outfit combinations. You get the biker look without the swooshing noises or sticking to any subway seats! Pairing a knit polo or trench coat that is longer in the back, gives you that rear-end coverage you want.
Workwear in Fall
Cream Chino Pants / Tan Drop Shoulder Tee / Over-the-Shoulder Sweater / Leather Pumps
Styling your fall workwear doesn't need to be a hassle! Especially when it comes to your work pants. Sweater draped over your shoulders + white pants = top-level preppy. Go for the all-white outfit look with a chalk color sweater. These leather pumps have chunky low heels, which are the perfect fit for chino pants.
Elegant Holiday Party
Wide Leg Wool Pants / Silk Cashmere Top / Skinny Leather Belt / Tennis Bracelet / Stud Earrings / Small Beige Tote / Pointed Toe Pump
Out of the many colors these pants come in, the cream white is so chic! They do run a little longer, so you should pair them with a classic heel (these pumps in the color camel are the perfect preppy pump). Plus wide-leg pants are a huge reason to pull out those pumps. With this white dress pants outfit – you'll rock your next holiday party with ease. 
Spring Time Sophisticated
Navy and Tan Striped Turtleneck Tee (only available in size small but similar HERE) / Demi-Boot Corduroy Pants (sold out but similar HERE and HERE) / Sweater Blazer / Black Leather Bucket Bag / Gold Hoop Earrings / Gold Bracelet / Suede Clogs
I love that these white corduroys sit right at the ankle and have a more relaxed feel than my wintertime corduroys. Add a spring blazer that has the comfort of a cozy sweater but still has the sophistication of a blazer. Then, simple gold jewelry and a leather bag are great basics to complement this adorable springtime white corduroy pants outfit.
Step up your style game with these white pants outfit ideas – let's rock the look together!
There you have it, friends – a round-up of outfit ideas for your white pants. From basic white jeans to white dress pants and trousers, I made sure to include something for every occasion so you have all the inspo you need!!!
Dress them up or dress them down with a variety of tops, shoes, and accessories. Whether it's a formal occasion or a casual day out, white pants are a versatile piece that can be worn all year round.
So go ahead, experiment with these outfit ideas, and don't be afraid to rock your white pants! I hope you enjoyed reading this post as much as I enjoyed creating it. Happy styling! More style inspo HERE.
The post White Pants Outfit Ideas appeared first on Kelly in the City.