This past weekend I got my Zen on among the trees in the beautiful Catskill Mountains of upstate New York. I spent the weekend donning Athleta's wide range of activewear and casual clothing, although I'm no stranger to Athleta's top-notch offerings. From reviewing plus-size activewear pieces to chatting with Alicia Keys about her collaboration with the brand, I'm on record as a fan of its super-comfortable, size-inclusive apparel. So when Athleta invited me on a weekend getaway to Piaule Catskills with forager-led trail hikes, Michelin-starred delicacies, falconry workshops, and astrology readings, I was obviously excited–especially to try some of its latest apparel launches. From the crispiest linen to the most butter-soft yoga pants, I got to test out some of Athleta's new bestselling pieces IRL all weekend long.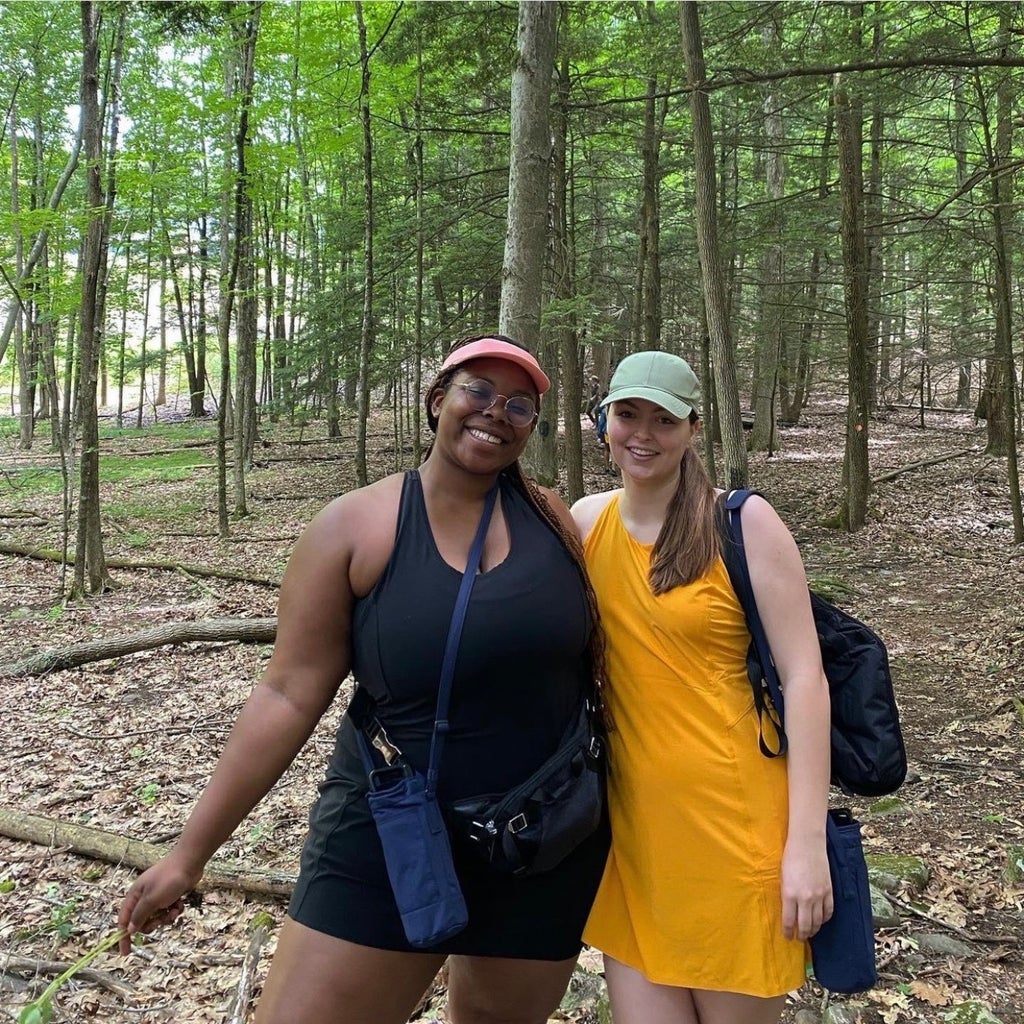 Read on as I dish on my favorite style moments, thoughts on the fits, and how I used the Athleta pieces. Plus, my travel buddy and best friend Sarah Crawford makes a guest appearance and shares a few thoughts on a couple of her favorite pieces.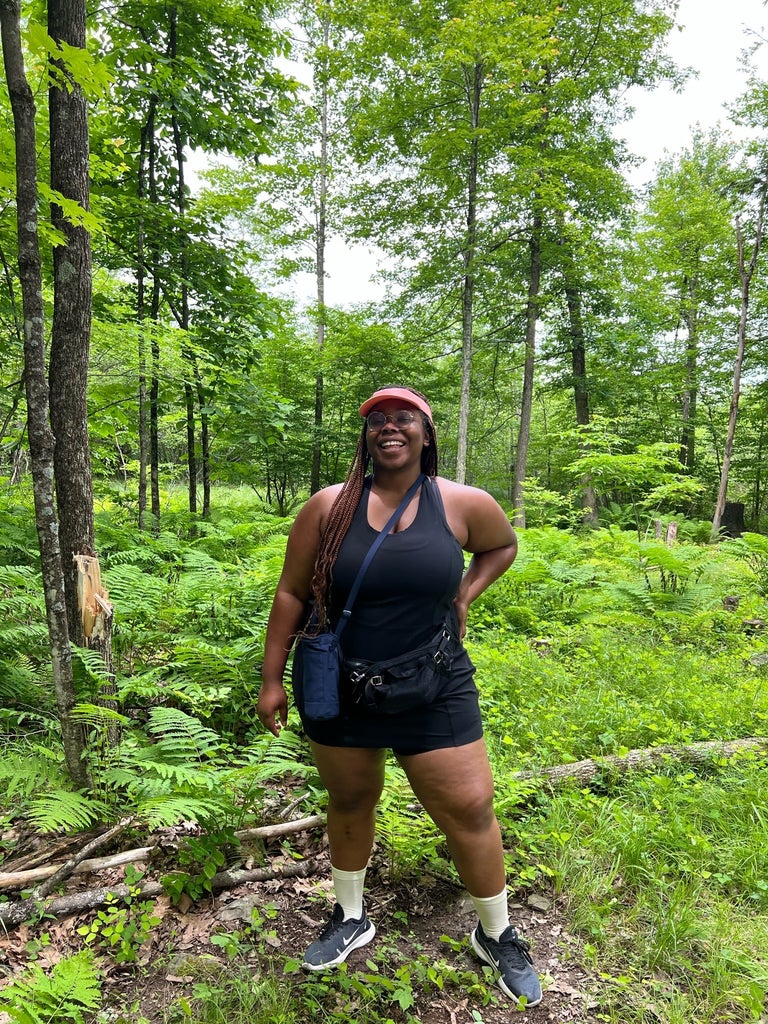 "The dress felt very soft and offered up a little more coverage than if I wore the salutation shorts and ultimate bra on their own. Since the dress didn't have a built-in bra or shorts, it was nice to add in classic athlete pieces for more support. However, if you have chafing balm, the shorts aren't needed. I love that I got a chance to try on a workout dress and the calm forager trail hike was perfect for a fun but cute outfit. If I were to go back, I'd probably snag the 7-inch salutation short instead because I love any chance for longer short inseams for more coverage." —Chichi Offor
"I'm not normally a workout dress person, but I really love the feel of this one and the fun color! I often get self-conscious about my body in dresses, especially for workouts, but this dress made me want to branch out more with my workout wardrobe! The built-in shorts were a nice bonus. It was great for a chill hike through the woods." —Sarah Caroline Crawford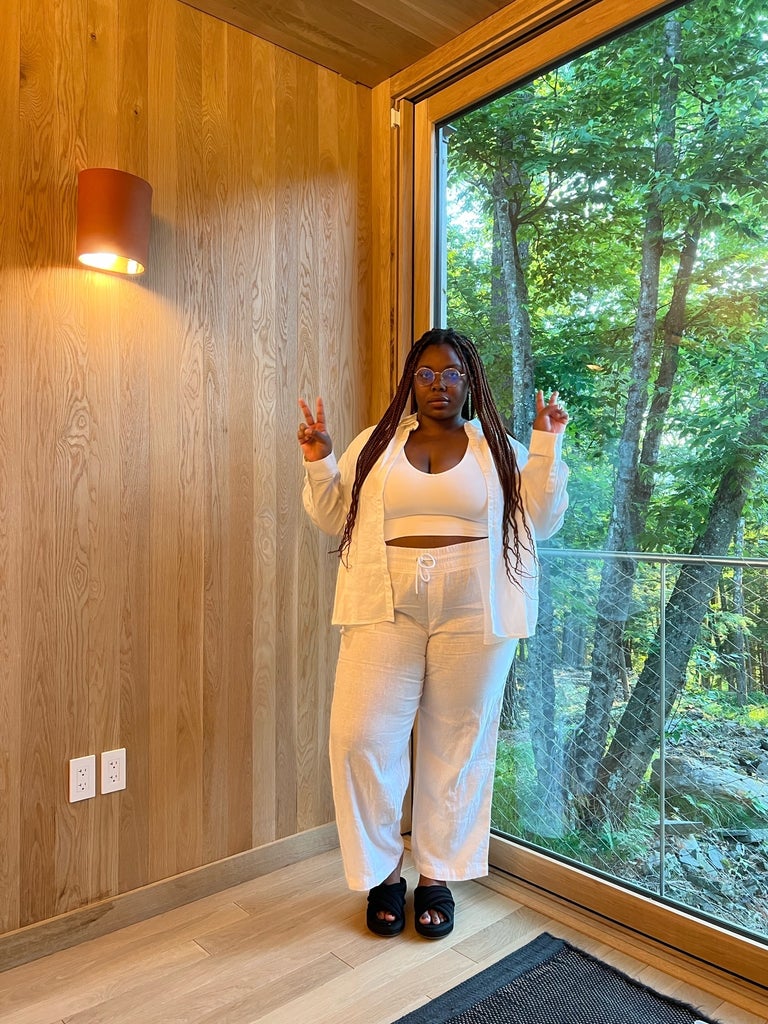 "This was probably my favorite look of the whole weekend for non-athletic activities. I wore this for dinner, an astrology reading under the stars, and s'mores by the fire. The linen is light and slightly roomy, so it's a super-comfy fit. Although the line was light feeling, it felt substantial, like it was constructed with top-notch quality in mind. I hardly ever get a chance to rock an all-white, monochromatic outfit, so I was super excited to put that to the test." —Chichi Offor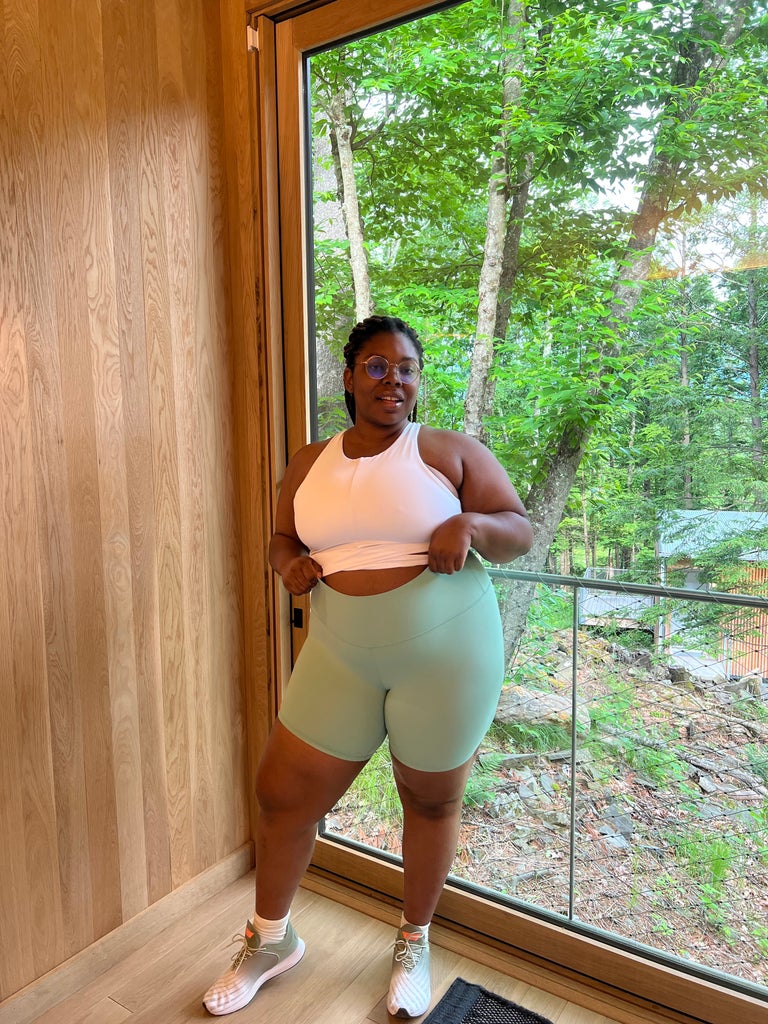 "I was so excited to try the conscious crop in the new cutout iteration. The original version is one of my very favorite tops to rock in warmer weather, and this did not disappoint either. The fabric is butter smooth, yet there is a significant amount of compression, so you don't have to wear a bra, and you are still definitely supported. The Transcend shorts are light as a feather and smooth throughout. They have a barely there feeling that's like a second skin." —Chichi Offor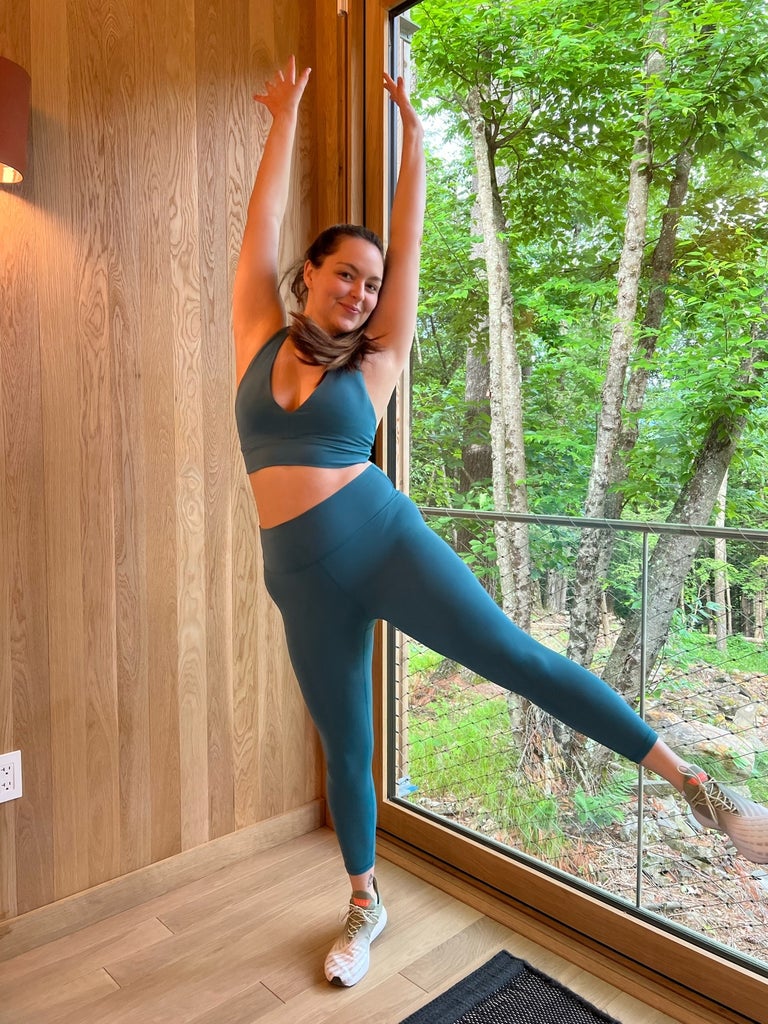 "I'm surprised at how much I love the light and soft feel of the bra and matching leggings! Other than the bra being a tiny bit low cut for very active workouts, I feel like this set gives me full coverage, and I loved how it fit me. I'll definitely be wearing it on repeat and want to try it in more colors." —Sarah Caroline Crawford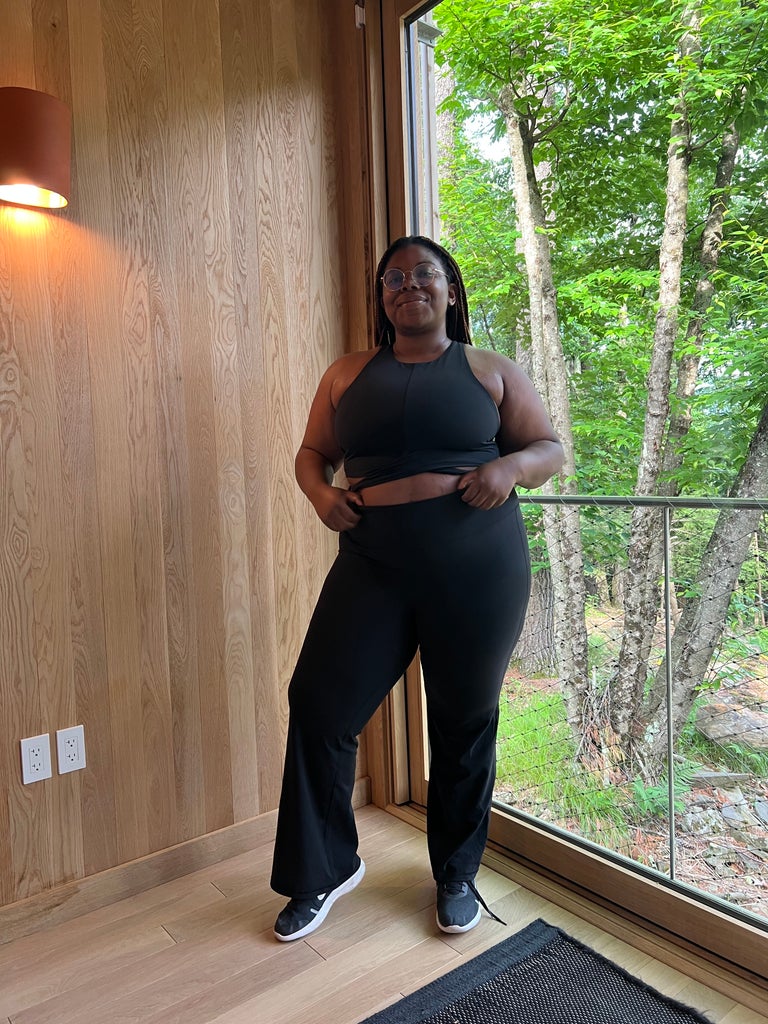 "I wanted to do another monochromatic moment during the trip, so I went for a classic all-black look for yoga. I've tried the elation material before in the legging form, and these flare pants live up to just what I expect. There's a little compression but not too much. It's great for moving freely and stretching deeply as I did in my yoga practice that morning. The black-conscious cutout crop looks good enough to wear for a casual hang or even a date night with a skirt! I cannot emphasize enough how awesome it is to wear tops without bras and still feel supported as a large-chested woman!" —Chichi Offor
"I used this outfit combination to do a HIIT workout. The ultimate stash leggings held up surprisingly well as I shifted, lunged, and jumped through multiple positions. While the leggings aren't as soft as some other Athleta pieces, they do have a solid amount of compression. Plus, I think the fuchsia colorway is AMAZING. The ultimate bra was cute and was great for most of the moves. However, I found that my breasts hopped up and down a little more than I liked during the jumping movements. I think this bra is good for medium- to low-impact workout movements or light jogging." —Chichi Offor
At Refinery29, we're here to help you navigate this overwhelming world of stuff. All of our market picks are independently selected and curated by the editorial team. If you buy something we link to on our site, Refinery29 may earn commission.
Like what you see? How about some more R29 goodness, right here?
I Wore Alicia Keys' Favorite Athleta Styles
The Most Comfortable Underwear For Any Workout