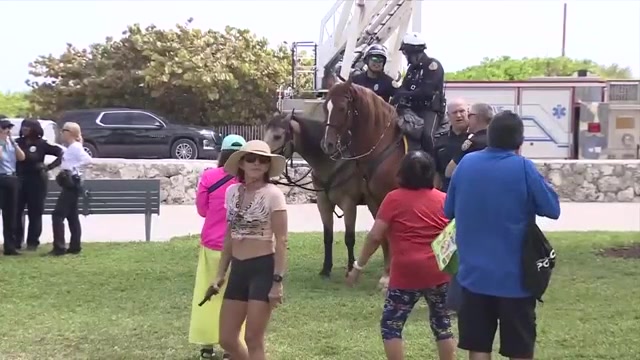 Large crowds are back on the beach, as the first week of spring break got underway across South Florida, and authorities are making sure chaos stays at bay for residents and visitors alike.
As revelers flock to South Florida, many of them have descended on South Beach.
7News cameras captured visitors strolling down Ocean Drive on Saturday afternoon.
"It's still like 40 degrees in Ohio, so I said, 'I am booking the place where I know it is going to be in the 80s," said visitor Haley Potter.
"We went jet skiing, we went on a speedboat, we've been to the beach, we've been a little bit of everywhere," said Madeline Robertson, who is visiting from Dallas, Texas.
Speaking of everywhere, the police presence has been all but impossible to overlook since the party got started on Friday.
People coming to popular destinations like South Beach and Fort Lauderdale Beach can expect to see lots of police officers cracking down on crime, mayhem and illegal behavior.
Miami Beach Mayor Dan Gelber said it's an all-hands-on-deck approach.
"We have an enormous police presence, not simply our police, but police from the county, from Coral Gables, from the city of Miami," he said. "We have cops on horses from the city of Miami. We want people to know that they're going to be safe here, but we also want them to really enjoy our city for the reasons that they should."
North of the county line, Fort Lauderdale Police rolled out the rules for the next few weeks, banning tents, alcohol and loud music on the beaches.
Police said they are also keeping a watchful eye on anything that may be slipped into your drinks.
"We will distribute these drink koozies, but inside the koozie is a card that you can put down a drop or two of your drink on, and it will test your drink for anything that may be in there that should not be in there," said FLPD Maj. Bill Schultz. "We'll be distributing those to the bars and to individuals throughout the week."
Miami Beach officials advise residents to expect road closures and detours. Parts of Ocean Drive will be shut down to drivers.