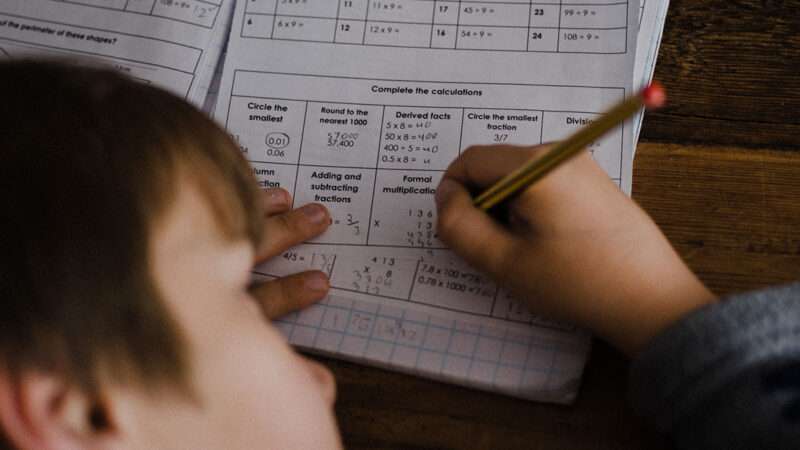 Tests measuring the academic performance of American schoolchildren consistently show dramatic declines in scores between the years directly before and after the COVID-19 pandemic. While the full scope of learning loss is not yet known, the data indicate that many children entered the 2021 school year with unprecedented education gaps that were likely exacerbated by widespread school shutdowns.
The National Association for Education Statistics tests a representative national sample of 9-year-olds on math and reading skills. From 2020 to 2022, according to a report published in September, reading and math scores declined by five and seven percentage points, respectively, reversing two decades of improvement in both areas. The drop was especially steep among students who already faced academic difficulties. While math scores fell only three points among students in the 90th percentile, they dropped a staggering 12 points within the 10th percentile.
In October, the National Assessment of Educational Progress revealed academic setbacks among 450,000 American fourth- and eighth-graders. The data hinted at the possible effects of low-quality remote learning. Among remote-learning eighth-graders, for example, just 41 percent of students who scored in the bottom quartile on the math test participated in live video lessons with their teacher every day or almost every day. Within the top quartile, 71 percent did.
Test scores declined for older students too. Between 2021 and 2022, ACT scores showed the biggest single-year drop in a decade. It was the first time in three decades that average ACT scores had dropped below 20 on the test's 36-point scale.
The ACT also sets "college readiness benchmarks"—minimum scores on each test's subsection that correlate with success in freshman-level college courses. In 2022, the percentage of students meeting all four of these benchmarks fell from 25 percent to 22 percent, the largest drop in 10 years.
These dramatic declines in test scores indicate that something went deeply wrong in American schools during the last few years. The obvious culprit is long-term school shutdowns. Notably, students in Sweden, which kept elementary schools open throughout the pandemic, experienced no learning loss.
School closures during the pandemic disrupted learning for millions of American students. The effects are now becoming painfully clear.
The post School Closures Still Link to Learning Loss, Nearly 3 Years Into Pandemic appeared first on Reason.com.