Rayon shirts, and tucking in or out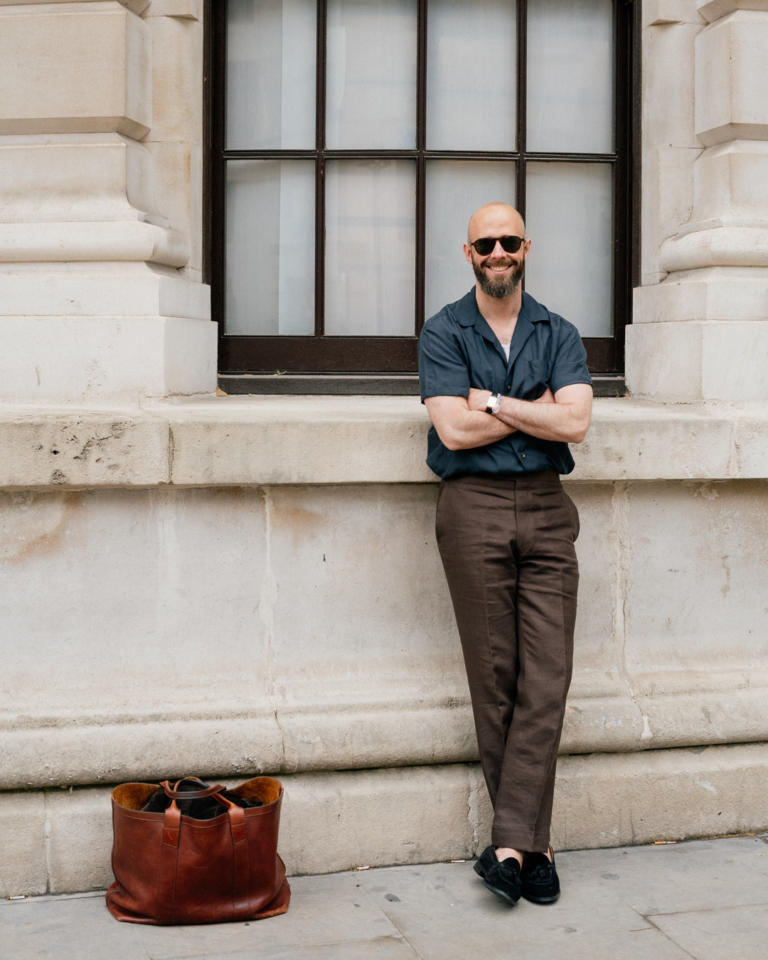 I've been kind of interested in rayon shirts recently, perhaps as I've been dressing a bit more casually and would like an alternative to linen.
However, I've found it hard to find the perfect model. Usually it's the collar – this is a retro material, and the shirts often come with retro styling, which means wider collars. 
This can look great on larger men or those with larger features – like Ethan at Bryceland's for example. And they work well if that's more your overall style I think, as it is for Scott Simpson.
But for a guy looking for a more subtle, everyday style, they can be a bit much. I'd love a Bryceland's rayon but I've tried them a few times over the years only to reach this conclusion.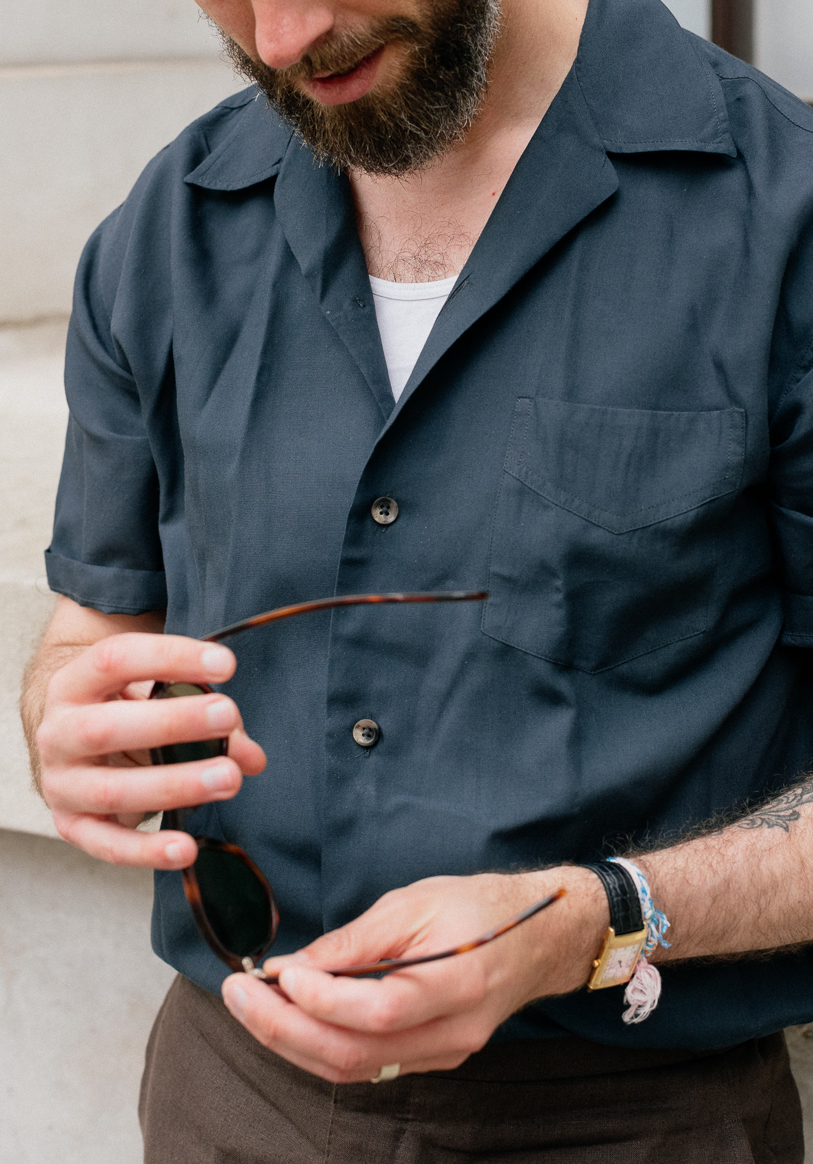 It was nice, therefore, to find the rayon shirt pictured from Pherrow's, sold at Clutch Cafe. 
It has a smaller collar – the kind of thing a shirtmaker might cut as his default camp collar. To put it in numbers, it measures 7cm to the point, compared to 10cm for the Bryceland's. 
It's also possible to be too small, at least for me. This seems to largely happen with mainstream shirts, which I guess shouldn't be surprising given their button-down collars and jacket lapels are so small. 
But I also have an old Gitman Bros camp-collar shirt from Trunk that has a 5cm collar. I end up undoing another button most of the time and rolling the fronts open, to try and increase the size. 
It's worth re-emphasising that as with many things we discuss, the point here is not just to just follow someone's preferences or dimensions – mine or anyone else's. Rather it's to understand another's tastes and then consider whether they apply to you. They may not.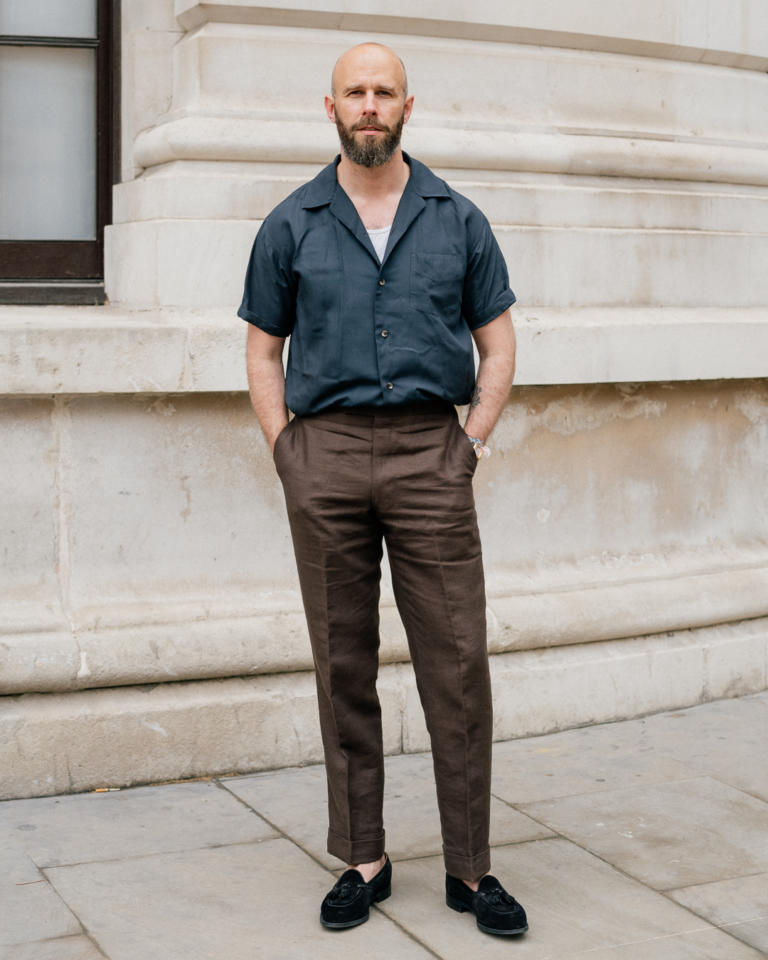 Featuring this rayon shirt brings up some other issues readers have asked about recently. Let's try and deal with one of them: tucking in and out. 
In very hot weather – as many of us have experienced in recent weeks – it can be much cooler to wear a shirt untucked. Air flow makes a difference. 
But a tucked-in shirt is usually more flattering, and certainly more elegant. It gives you a clean line at the waist and it makes the upper body look wider. It also lengthens the legs and brings attention to a nicely cut trouser. 
For those reasons, and because elegance is always at the back of my mind, no matter what I'm wearing, I will wear a rayon shirt like this tucked in most of the time. 
I'd also encourage others to try it. It might not be the intuitive thing to do, but try tucking the shirt into linen trousers – doesn't matter whether they're expensive, they just need a nice line, length and colour. 
Still, I will wear a shirt like this untucked too, and it's much more natural to do so with one that has short sleeves and a square hem. 
That's the question readers usually ask: when would you wear a shirt untucked? This is the most obvious situation, but I'd also be more likely to do so with a long-sleeved shirt that had a square hem, and would do so last of all with something that was long-sleeved with a regular hem (a normal shirt, basically). 
Untucking a regular shirt can look good, and I recommended a linen shirt like that from A&S recently. But it takes a little more consideration to make sure it doesn't look like you've just untucked your office poplin. 
Having a square, blowsy cut helps; so does a soft collar and cuffs; unbuttoning it more to create shape is nice; also wearing something close-fitted underneath, like a vest; and lastly sticking with casual, open-weave materials.
It's no coincidence that the same kinds of things apply to overshirts – they're usually looser and softer in the same way.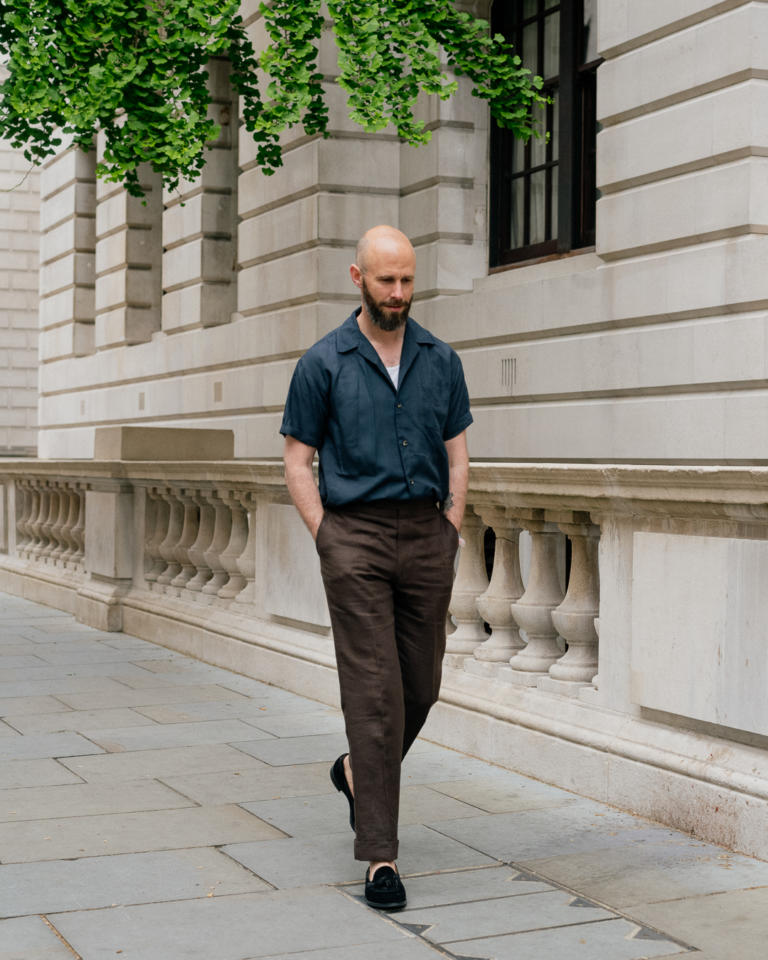 The other area short-sleeved shirts could bring up is bold patterns – Aloha shirts and the like. 
Two kinds really turn me off – the 'fun' type (Snoopy surfing anyone?) and the ones with that kind of dense pattern that reminds me of Noel Edmonds. 
Actually, it's unfair to lump this all on Noel. The English middle-aged male generally is guilty of wearing 'party' shirts that have closely packed Liberty-like patterns, for no obvious reason other than that it's a way to signal that they're not an office shirt. 
But patterns more broadly are probably a discussion for another day. For the moment I love this 'black' from Pherrow's, which is actually an inky navy. Following its success I bought the 'natural', a kind of sand, but that I find that benefits from having something white underneath, like a vest, otherwise it rather washes me out. Always a risk with creams and related colours. 
The shoes are Edward Green unlined Belgravias, in black suede. The trousers are brown linen, from this Sexton suit. The bag is my old old Frank Clegg working tote. If anyone has any questions on the shirt – fit, feel, material etc – do shout in the comments. 
Photography: Alex Natt