NATO Members Split On How To Upgrade Ukraine's Status At Upcoming Summit
Authored by Kyle Anzalone via The Libertarian Institute, 
Members of the North Atlantic Treaty Organization (NATO) are privately debating what Kiev's status should be within the alliance. All countries agree on upgrading Ukraine's standing in the bloc, but some members are hesitant to give Kiev a concerted path to joining the alliance, the Washington Post reports. 
The leaders of the North Atlantic alliance are scheduled to gather in Lithuania for the Vilnius Summit in July. During the gathering, the members are expected to agree to strengthen the ties between the bloc and Ukraine.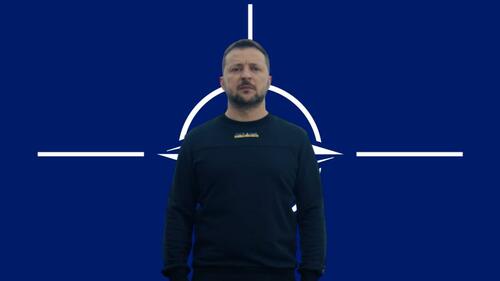 Last month, NATO chief Jens Stoltenberg said the country's membership status will be on the table at the upcoming gathering. "The Vilnius Summit will be important for many reasons… President Zelensky will raise the issue of membership, of security guarantees, and this will be high on the agenda of the meeting," he added, "Ukraine's future is in NATO. All Allies agree on that."
According to the Post, the alliance is divided by east and west. Eastern European members, and Kiev, seek to give Ukraine a path to membership that includes concrete steps as well as a timeline to becoming a full member. Some Western European states, including the US, do not agree and prefer to focus on the war against Russia. 
US officials speaking with the Post said they view "Membership and potential security guarantees as matters that should be addressed as part of an eventual settlement to the war." Countries opposed to Kiev joining the alliance worry it will put NATO in a direct war with Russia. 
Washington is supportive of a "bureaucratic upgrade to a NATO-Ukraine body or a decision to further expand NATO's technical support to Ukraine's defense sector," the Post reports. However, the White House appears unwilling to publicly voice its opposition to Ukraine becoming a member. 
Late last month, press secretary Karine Jean-Pierre said the decision to admit new members is "up to NATO" and countries aspiring to join, adding that the administration's current focus is on supplying Kiev with weapons to "push back against Russian aggression."
The Post spoke with an Eastern European official who said there is "something of a ping-pong between Germany, France and the US," with each government accusing the others of preventing Kiev from receiving a concrete path to membership within the bloc. While the disagreements remain unresolved, all parties agree it is important to present cohesion in public. 
Russian President Vladimir Putin has denounced plans for Kiev to become a member of the North Atlantic alliance. When explaining his reasons for invading Ukraine, Putin said NATO expansion and Kiev's pending ascension into the alliance were the primary reasons.
Tyler Durden
Tue, 05/16/2023 – 02:00