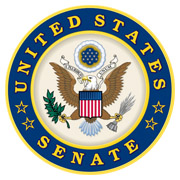 Washington, D.C. – Just over a week ago, President Joe Biden released his disastrous $6.9 trillion budget for Fiscal Year 2024, and as expected, it's chock full of new taxes and wasteful spending.
Meanwhile, Tennesseans are tired and worried that they won't be able to provide basic necessities for their families before their paychecks run out. That's why I have introduced 1%, 2% and 5% across-the-board spending cuts targeted at non-defense, non-homeland security, and non-veteran affairs programs.
The American people deserve better than these reckless tax and spending sprees!
Weekly Rundown
I'm meeting with leaders in all 95 Tennessee counties to set priorities for this Congress, and improving access to care in rural communities is at the top of the list. As co-chair of the Senate Rural Health Caucus, I have reintroduced my Rural Health Agenda to ensure rural healthcare facilities can expand their hours of operation, hire additional medical providers, and receive fair payment for the services they provide. This agenda will also incentivize more health professionals to work in rural health facilities in exchange for forgiving medical school loans.
A recent NBC News report highlighted how pedophiles are using Pinterest to entice and target underage girls as young as nine years old. The investigation found that not only is Pinterest allowing this to happen, but its recommendation engine is making it easy to do so. I led a bipartisan letter to Pinterest this week, demanding answers on the company's practices for identifying and removing sexually suggestive content that is harmful to young users.
To pay for Joe Biden's manufactured border crisis, the Department of Homeland Security recently proposed a rule that would dramatically increase application fees that businesses pay for immigrant workers. On Tuesday, I led a letter to DHS urging them to withdraw this nonsense policy. Instead of penalizing small businesses and farmers, they should focus on policies to curb the influx of migrants overwhelming our immigration policies.
Spring break always brings lots of tiny Tennesseans to Capitol Hill! Sign up to join us at Tennessee Tuesday here.
Marsha's Roundup
ICYMI
The post Marsha Blackburn Report: Biden's Budget Is A Bust appeared first on Clarksville Online – Clarksville News, Sports, Events and Information.