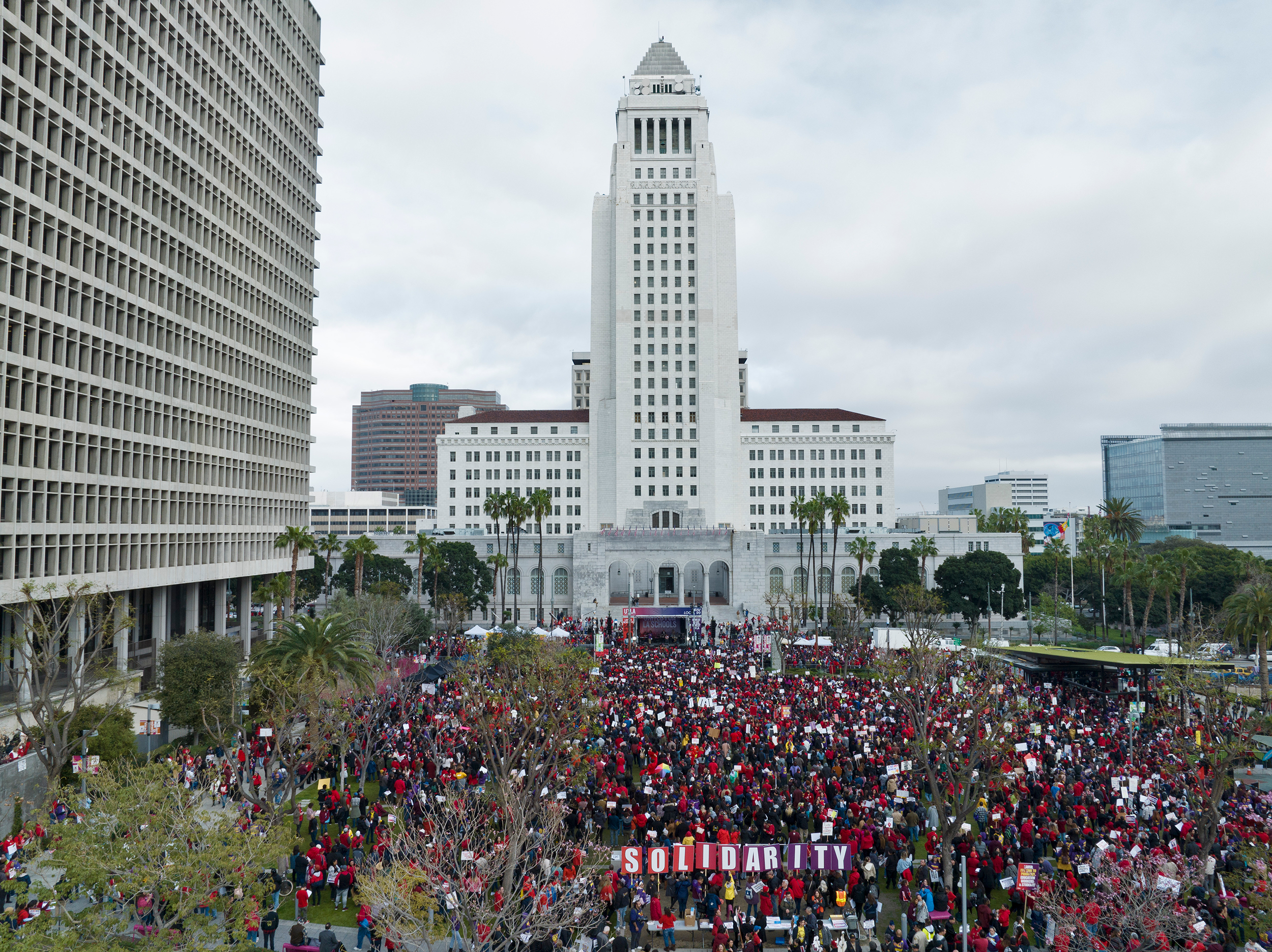 (CNN) — A union representing 30,000 Los Angeles school custodians, cafeteria workers, bus drivers and other support staff will start a three-day strike Tuesday, effectively stopping classes for more than a half million students in the nation's second-largest school district.
Service Employees International Union Local 99 members will walk off the job after nearly a year of negotiations with the Los Angeles Unified School District. United Teachers Los Angeles, a union representing about 30,000 teachers, will participate in a solidarity strike this week and join the support workers union rallies, it said.
Superintendent Alberto Carvalho announced schools would be canceled for students starting Tuesday after last-minute negotiations, which included new raise offers, failed.
The union wants "equitable wage increases, more full-time work, respectful treatment, and increased staffing levels for improved student services," it said. Workers' average salary is $25,000 a year, and most work part-time — which has led to staffing shortages, the union said.
The district was shut down by a six-day strike in 2019, when the teachers union demanded smaller class sizes, more school staffing and higher wages. It followed a wave of strikes across the country, spurred by dismal school conditions and teachers working several jobs to pay their bills.
The demands and the offers
Members of the Los Angeles schools' support workers union said they want:
• A 30% pay raise, plus an additional $2 an hour over next four years
• Increased employment hours for part-time workers
The latest offers announced by the Los Angeles school district on Monday included:
• A 23% recurring pay increase, plus a 3% cash-in-hand bonus
• A $20-an-hour minimum wage
• Full health care benefits for those working at least four hours a day.
'We should not be depriving our students,' superintendent says
The school district has tried to negotiate in good faith, said Carvalho, the superintendent.
"Under California law, we cannot drive the school system into a bankruptcy position. We cannot drive the school system into a red position. And if we were to acquiesce to all the demands, that is exactly where we would be, that is not legally allowable," Carvalho told CNN.
"We are eagerly awaiting on a counter proposal and we are ready to put another compelling offer on the table to continue the dialogue," Carvalho said. "We believe that a strike is avoidable and should be avoided, considering the consequences that would have in our community."
If the three-day strike continues as planned, students will suffer, the superintendent said. The strike would make it "virtually impossible" to keep schools open in the district of more than 500,000 students.
"We should not be depriving our students of an opportunity to learn," Carvalho told CNN.
But the head of the education workers union said the strike might be the only way to force change.
"If the district doesn't realize that our members are valuable … once they stop working, then nothing's really gonna change," said Max Arias, executive director of SEIU Local 99.
"Ultimately, what we're seeking is improving the schools — equity in schools. That's what we're seeking."
'Families have been sacrificing for far too long'
A school workers' strike this week would negatively impact students, Carvalho said.
"We need to reach a resolution that honors the work of our dedicated employees, while respecting the rights our children have to a quality education, meals and access to enriching school activities," the superintendent said.
The district would offer help to families by opening 24 grab-and-go food sites and having 154 schools provide student supervision, plus about 120 city-run sites at libraries, recreation centers and other locations, Carvalho said in announcing Monday schools would shutter.
The Los Angeles Zoo is also offering free admission for students due to the closures, and its all-day zoo camp program for students in kindergarten through 5th grade added two free "extended care" hours per day.
The union's leader understands the challenges families endure when schools shut down for strikes, he said, noting many of the workers are school district parents, too.
"As LAUSD parents and workers, SEIU Local 99 members know a strike will be a sacrifice but the school district has pushed workers to take this action," Arias said in a statement.
"Families have been sacrificing for far too long on poverty wages. Students have been sacrificing for too long in school environments that are not clean, safe or supportive for all," Arias said. "Too many workers have been subjected to harassment simply for demanding change. Enough is Enough!"