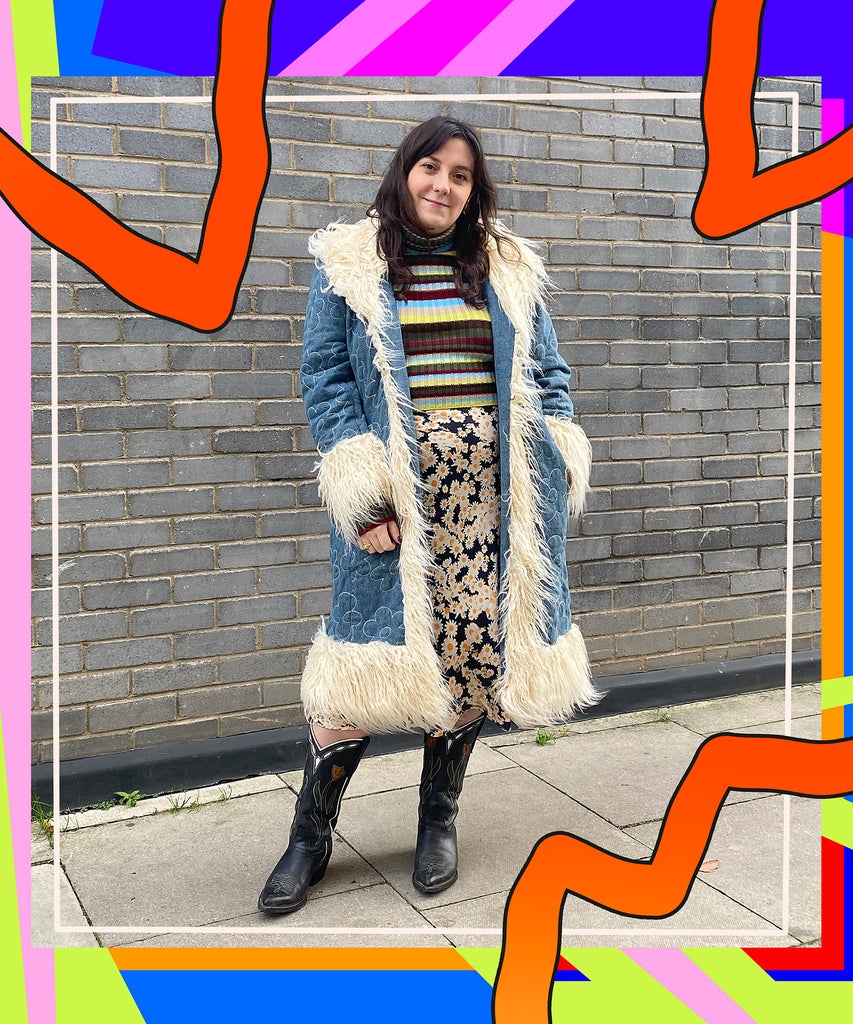 Following the year-long reign of platform heels, there's a new shoe trend that's set to steal the spotlight this winter: cowboy boots. Having first made their comeback on TikTok last summer, thanks to a resurgence in Y2K fashion, Western boots got the designer stamp of approval thanks to recent runway collections from Chloé and Chanel.
"The classic Western boot takes on new forms, reinvented into modern, sleek shapes, and a more novel return of this signature look," Caroline Maguire, fashion director at Shopbop, told Refinery29 in September. "Some of my favorite styles are the Paris Texas Vegas boots, in a stunningly chic white, and Annie Bing's toned-down take on the trend. Also, I love Isabel Marant's Dahope boots, which add some variety to the silhouette I typically like to go for."
Indeed, cowboy boots now come in various colors, materials, and heights, making them versatile enough to pair with everything from mini dresses and cut-offs in the summer to midi skirts, jeans, and slouchy sweaters in the colder months. So much so that Refinery29 editors consider them a wardrobe staple.
Whether you're ready to blow the dust off of a vintage pair or are looking to add a dash of futuristic drama with a metallic style (another big footwear trend!), here is how four R29 staffers are styling their favorite pairs of cowboy boots this winter.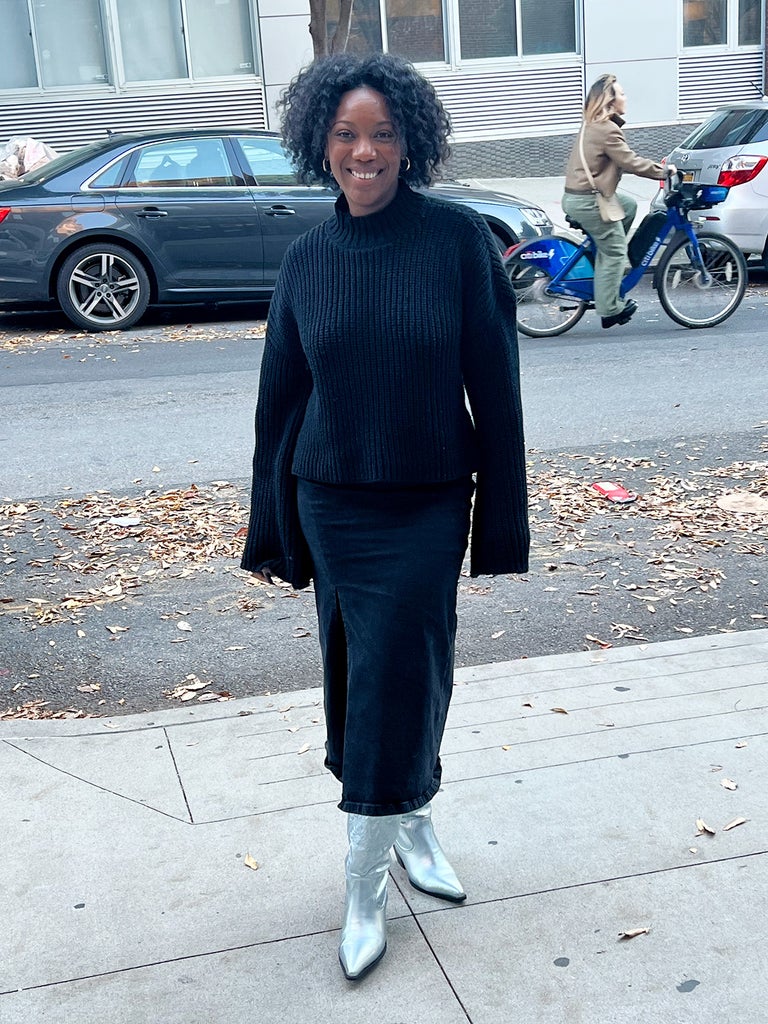 "What I love about a good pair of Western boots is that you can wear them with anything. You can dress them up or down; wear them to the office or out on the town. They're a closet staple! Since it's getting cold in New York City, I paired my new favorite pair with an oversized black sweater and a maxi jean skirt with a cute little slit. The look is both comfy and stylish and can easily transform from day to night. 
The silvery blue color makes the boot stand out but goes well with just about anything. They're the perfect length, hitting right at that mid-calf height, and the heel is low enough to walk around all day in but also high enough to really elevate a look. The best part about these boots is that they were only $60!" — Cortni Spearman, Social Director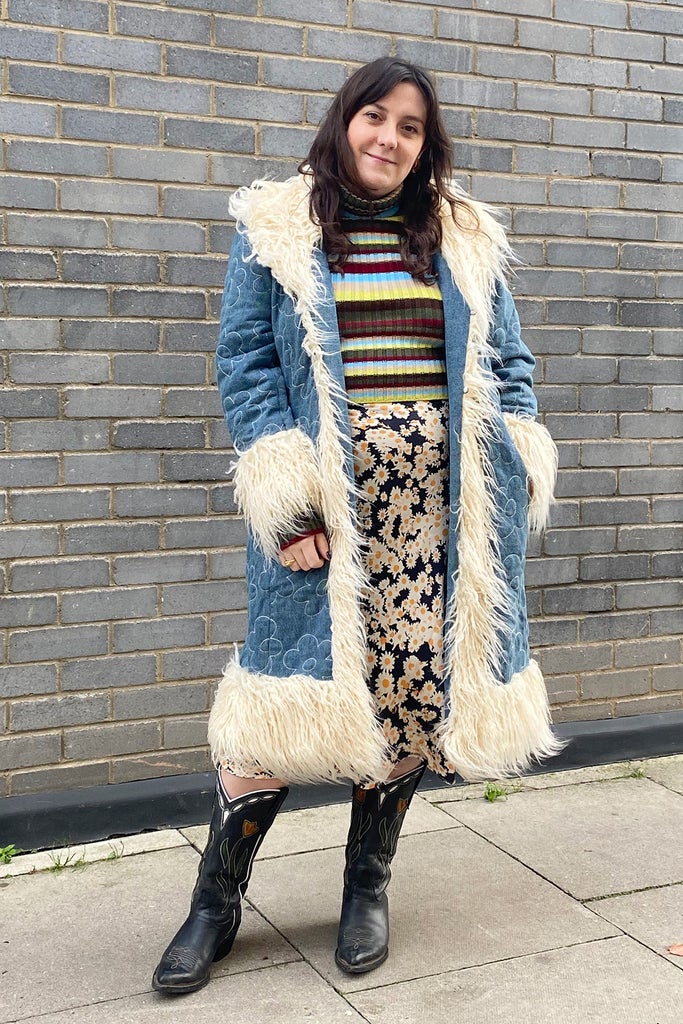 "I am such a fan of cowboy boots — I even have a little tattoo of one on my arm! While many people think they're more of a summer item, I wear mine throughout fall and winter with maxi skirts, dresses, and a Penny Lane coat for a glam, '70s 'rockstar girlfriend' vibe.
These boots, from Depop, are vintage. There's just something romantic about a pair that has been well worn in (not to mention, they're often a lot comfier!). If you're struggling to find the perfect fit secondhand, another of my cowboy boot go-tos is Free People. They're always top in terms of quality and often offer designs with unique colorways and fun patterns. Their blue butterfly design boots, by Jeffrey Campbell, are one of my most complimented fashion items." — Esther Newman, UK Affiliate Writer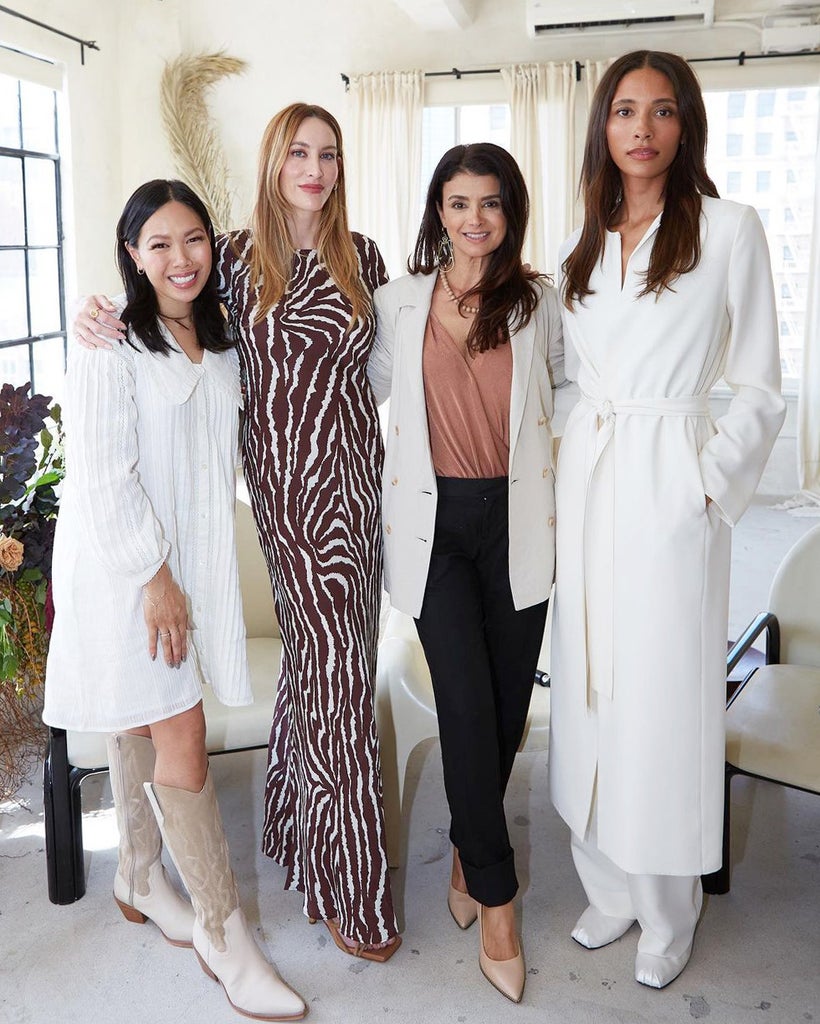 "Ask my parents — I have *always* loved cowboy boots. Ever since I was little, I would sneak into my dad's closet to borrow his boots, which I obviously did not fit. While my love for the footwear staple hasn't changed, the way that I style them has.
This winter, I'm treating the cowboy boot the way I would my black Chelsea boots or my camel ankle booties. In other words, instead of making the boot the focal point of my outfit, I'm pairing it with more casual ensembles like jeans and a sweater or a simple dress. I used to build my outfit around the cowboy boot, which inevitably always made my outfit look more Western, but I find that the cowboy boot is just as much of a classic shoe as the rest of my fall boots and can be paired with just about any look. This way, I get to wear them more often, too." — Sara Tan, Beauty Director (pictured left)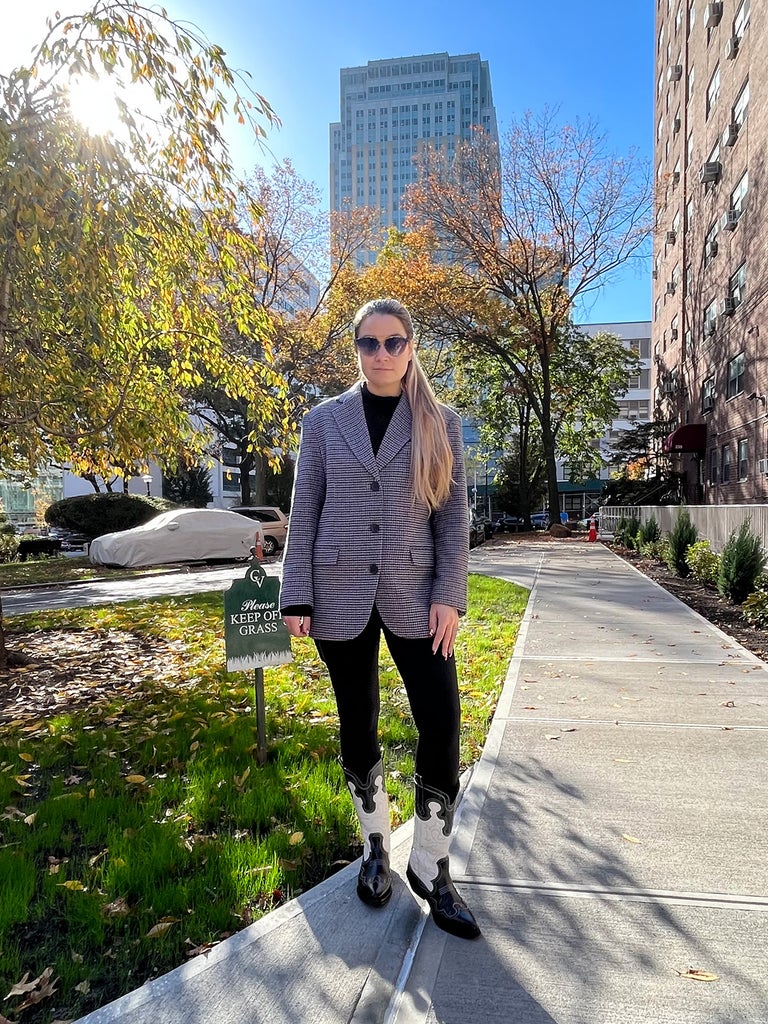 "Having first dabbled with Western boots (of the printed Ed Hardy variety; I know, I know!) in the mid-'00s, I thought I retired the look for good in favor of more versatile footwear. But, after seeing Ganni's Spring 2023 show at Copenhagen Fashion Week — which featured a range of styles paired with cargo pants, colorful denim, and mini skirts — this black-and-white pair instantly shot to the top of my shopping wishlist.
While I've recreated this exact look using the denim pieces from the Danish brand's collaboration with Levi's and worn the boots with midi skirts and knit dresses, I've been also leaning into equestrian styling by wearing the shoes with a tight-fitting pant (even better if it has stirrups!) and a plaid blazer." — Irina Grechko, Fashion Director
At Refinery29, we're here to help you navigate this overwhelming world of stuff. All of our market picks are independently selected and curated by the editorial team. If you buy something we link to on our site, Refinery29 may earn commission.
Like what you see? How about some more R29 goodness, right here?