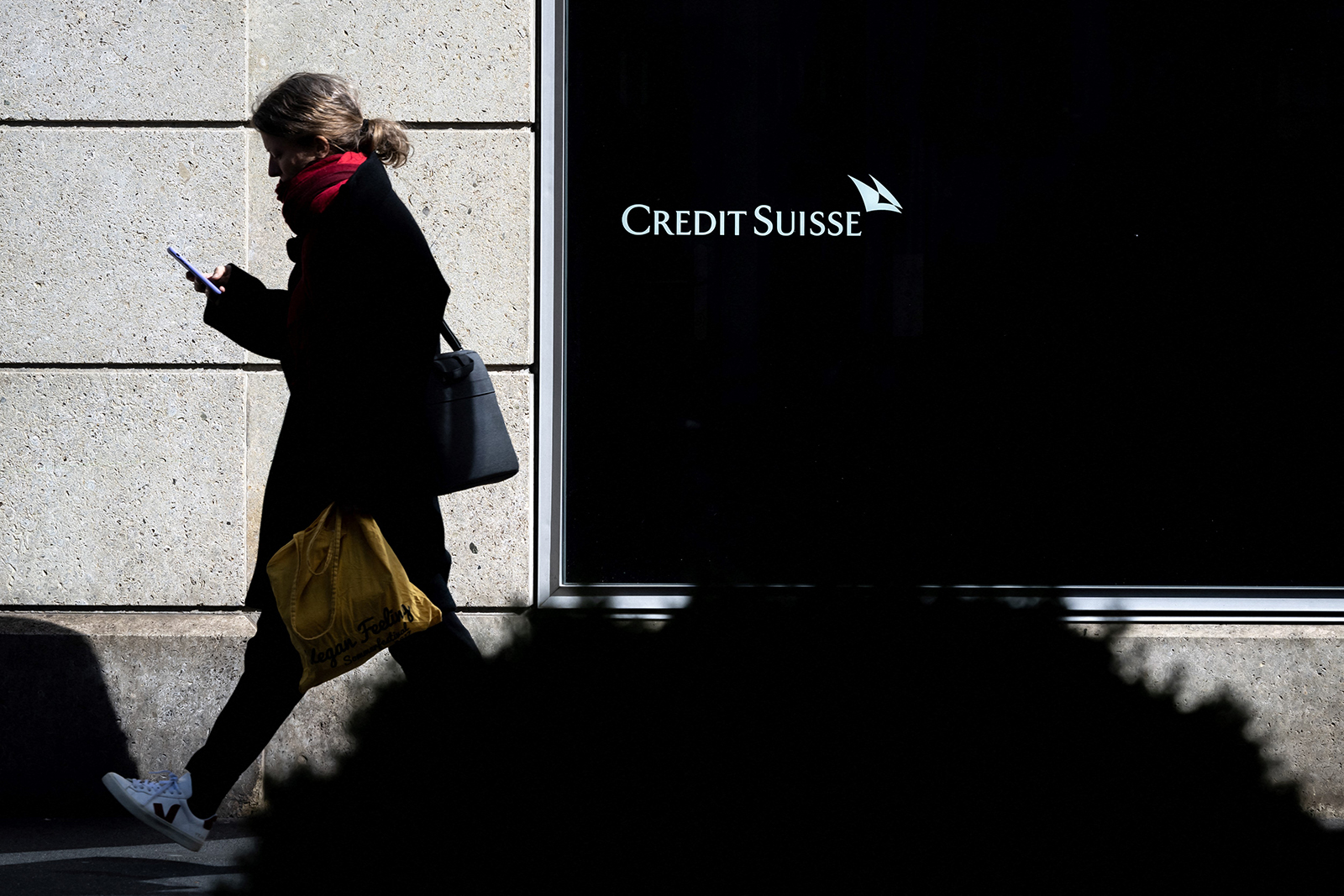 (CNN) — An overnight scramble to shore up confidence in Credit Suisse calmed panicked investors Thursday, with shares in Switzerland's second-biggest bank shooting higher in early trade.
Credit Suisse said it would borrow up to 50 billion Swiss francs ($53.7 billion) from the Swiss National Bank, taking advantage of a lifeline offered by the central bank late Wednesday after its stock crashed as much as 30%. It also said it would buy back some of its own debt.
In a statement early Thursday, CEO Ulrich Körner said he had taken "decisive action" to strengthen the bank as its continues to implement a major overhaul announced last fall.
"My team and I are resolved to move forward rapidly to deliver a simpler and more focused bank built around client needs," he added.
Shares gained 23% to trade at 2.1 Swiss francs ($2.3) by 5.50 a.m. ET. Two years ago they were worth more than 11 francs ($12) apiece, but a series of scandals, missteps and compliance failures have steadily eroded the bank's business and undermined the confidence of investors and clients. The stock has lost 25% so far this year, and 70% over the past 12 months.
Customers withdrew 123 billion Swiss francs ($133 billion) from Credit Suisse in 2022 — mostly in the fourth quarter — and the bank reported in February an annual net loss of nearly 7.3 billion Swiss francs ($7.9 billion), its biggest since the global financial crisis in 2008.
The venerable but troubled bank, founded in 1856, is one of the biggest financial institutions in the world and categorized as a "global systemically important bank," along with just 30 others, including JP Morgan Chase, Bank of America and the Bank of China.
The Swiss National Bank confirmed Thursday that it would provide liquidity to Credit Suisse "against sufficient collateral."
Unwarranted panic?
Fears about weaker lenders exploded last week when Silicon Valley Bank collapsed in the biggest US banking failure since the global financial crisis. But the trigger for Wednesday's rout in Credit Suisse shares came from comments by the bank's biggest backer — the Saudi National Bank — that it wasn't prepared to put up more money after buying a near-10% stake for $1.5 billion last year.
Speaking on Thursday, the chairman of Saudi Arabia's biggest bank said the panic was unwarranted.
"It's panic, a little bit of panic, I believe completely unwarranted whether it be for Credit Suisse or for the entire market," Ammar Al Khudairy told CNBC.
European stock markets took comfort in the turnaround in bank stocks, with major indexes opening higher. US futures were also steady.
But some analysts cautioned that the spotlight might now shift from Credit Suisse to other parts of the financial sector.
"The problems at Credit Suisse are very different to those that brought down SVB a few days ago," Neil Shearing, chief economist at Capital Economics, wrote in a note to clients. "But they serve as a reminder that as interest rates rise, vulnerabilities are lurking in the financial system. Key areas to monitor are smaller European banks and shadow banks."
What will the ECB say?
Interest rates in the euro area have soared from minus 0.5% last June to 2.5% in February. The European Central Bank had been widely expected to hike rates by another half percentage point later Thursday, but this week's banking turmoil may force a rethink.
Investors will also be paying particular attention to remarks from ECB President Christine Lagarde at a news conference beginning at 9.45 a.m. ET.
"She needs to reassure investors that no major eurozone European banks are in the same position as Credit Suisse and — more importantly — stress that eurozone institutions have the unequivocal backing of the ECB," Shearing added.