Cracks In Italy's Right-Wing Coalition Grow After Berlusconi Blats Meloni For Meeting With Zelensky
Authored by Thomas Brooke via Remix News,
The three leaders of Italy's coalition partners hold vastly differing views on how best to tackle the war in Ukraine. Do these views complement each other, or are cracks in the right-wing alliance starting to show?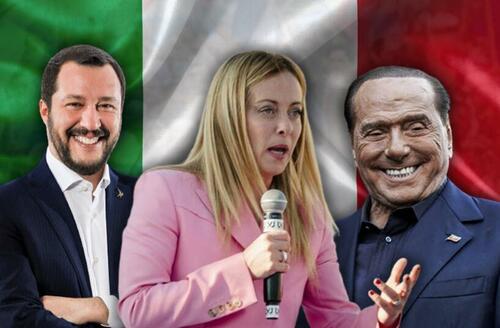 Silvio Berlusconi may belong to Giorgia Meloni's right-wing governing coalition, but on the issue of Ukraine, the two are gravely at odds, with their differing views on Ukraine's leader and how involved Italy should be in the conflict spilling out into sharply critical public statements.
Sympathetic to Russia long before the conflict in Ukraine erupted last February, outspoken former Italian premier Silvio Berlusconi recently publicly criticized the Italian prime minister's decision to side with Ukrainian President Volodymyr Zelensky.
"If I had been premier, I would never have gone to speak to Zelensky," the leader of Meloni's coalition partner Forza Italia told Italian media after voting in the regional elections won by the right-wing coalition. Instead of Russian President Vladimir Putin, he blamed the Ukrainian president for the continuing conflict across the country.
"It would have been enough if he had stopped attacking the two autonomous republics of Donbas, but this never would have happened, so I judge the behavior of this gentleman very, very, very negatively," Berlusconi added.
The issue of Ukraine has long been a sticking point within the coalition, with political analysts stating that it was one of the most divisive issues facing the government when it first formed.
"You know you can count on our loyal support for the cause of freedom," newly elected Italian Prime Minister Giorgia Meloni told Ukrainian President Volodymyr Zelensky shortly after her electoral success in September last year.
Five months on, she repeated this pledge during a visit to the Polish capital of Warsaw on Monday ahead of her trip to Kyiv, insisting Italy's humanitarian, financial, and military support for the country fighting back against Russian aggression for close to a year now will continue.
Meloni leads the Brothers of Italy (FdI) which is the largest party in the Italian coalition government. While she continues to toe the line expected of "mainstream" European leaders and pledges unwavering support for Zelensky, primarily in a bid to be accepted by Western counterparts initially dubious about her electoral victory, her coalition partners have shown considerably less enthusiasm for the Ukrainian question, as recent public remarks demonstrate.
When asked by a journalist off camera whether he supported his prime minister's view that an appropriate peace agreement can only be reached in Ukraine if both sides are equally equipped militarily, Berlusconi replied, "No," and called for U.S. President Joe Biden to create a Marshall Plan to rebuild Ukraine on the condition of an immediate cease-fire. The original Marshall Plan saw the U.S. provide European nations with long-term loans to rebuild their infrastructure and stimulate their economies in the aftermath of World War II.
"The American President should take Zelensky aside and say, 'I am willing at the end of the war to create a Marshall Plan to rebuild Ukraine. A Marshall plan of 6, 7, 8, 9 billion dollars on one condition, that you order a cease-fire tomorrow, because as of tomorrow we will not give you any more dollars and we won't give you any more arms.' Only something like that will convince this gentleman to agree to a cease-fire," Berlusconi added.
It is worth noting that Berlusconi is a long-time acquaintance of the Russian president. In October, the Forza Italia leader revealed the pair had exchanged "lovely letters" despite the ongoing war in Ukraine, and Putin had sent him 20 bottles of vodka for his birthday. He was reportedly told by Putin in one such letter that he was the Russian leader's "number one among his five best friends."
As Remix News reported yesterday, Berlusconi has just been acquitted for his role in the so-called "bunga-bunga" parties, with the trials dragging on for years. The Remix News article details that there is evidence that Italy's judicial system was weaponized against the former prime minister to remove him from power, including under instructions from Western countries like the United States. These nations reportedly saw him as a threat to liberal Western interests due to his views on Putin, Libya's Gaddafi, and Iran.
Where does Salvini stand?
While Meloni and Berlusconi appear to be, publicly at least, at opposite ends of the spectrum when it comes to Ukraine, the third major player in the right-wing coalition is somewhere in the middle. Matteo Salvini, the leader of the League party whose core voter support fled to Giorgia Meloni in the last election after an underwhelming stint in government, has frequently criticized the Western response to the war in Ukraine, and while the right-wing firebrand reportedly has ties to Russia, he has refrained from making any public statements as bold as Berlusconi's.
Salvini has been skeptical of the anti-Russia sanctions imposed by Western allies. However, much of his criticism was offered prior to the electoral success of Italian conservatives in late September of last year.
"Do we have to defend Ukraine? Yes," Salvini said. "But I would not want the sanctions to harm those who impose them more than those who are hit by them," he had warned earlier that month.
"If we get into government, will we change alliances? No. We remain deeply, proudly and firmly rooted in a free and democratic West that opposes war and aggression," Salvini maintained at the time. The League leader has been far more reserved since the right-wing coalition took office.
Salvini's position could be considered to be in alignment with European leaders such as Hungarian Prime Minister Viktor Orbán, who has long been a public opponent of anti-Russian sanctions that impact negatively on the lives of Europeans.
"At first I thought we just shot ourselves in the foot, but now it seems that the European economy shot itself in the lung, and that's why it is now gasping for air," Orbán said of the Western approach to Russian sanctions in July last year, and he has not changed his viewpoint.
Despite the leaders of the three main coalition partners sharing considerably varied opinions on how to tackle the Ukrainian issue, the differences of opinion have not resulted in adverse electoral results. In fact, the right-wing alliance stormed to victory earlier this month in the Lombardy and Lazio regional elections, retaining control of the former and seizing control of the latter from the center-left.
However, with Berlusconi's latest remarks, the cracks are beginning to show on the issue of Ukraine and there are two ways in which such a fracture could go. The first is a political breakdown of the right-wing alliance, which up until now has remained fairly cohesive and efficient. Alternatively, Berlusconi's remarks, deemed unpalatable by the Western mainstream, could actually help to promote Giorgia Meloni's image in the eyes of initially skeptical Western leaders.
The more Meloni distances herself from the remarks of her coalition partners and wholeheartedly doubles down on Italy's support for Ukraine, the more she shores up her image as a moderate, as one of the gang, and the more leeway she may perhaps have with her European counterparts when it comes to her conservative domestic reforms, including on the issue of tackling illegal immigration.
Tyler Durden
Wed, 02/22/2023 – 02:00