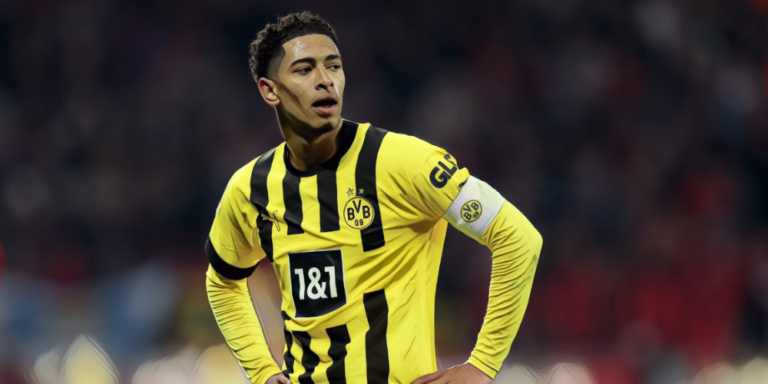 The future of Jude Bellingham is set to be one of the stories of the summer, with the England international likely to be at the centre of a huge European tug-of-war.
The 19-year-old is one of the most talented and highly-rated teenagers on the planet, with his impressive showings in the Qatar World Cup only enhancing his growing reputation.
Borussia Dortmund are understandably keen to keep the midfielder at the club, though know they have in their possession a hugely valuable asset that could be cashed in on.
According to The Athletic, Borussia Dortmund have 'consistently made it clear they want around €150million (£132m)' for their star player, with Manchester United's failed pursuit of Jadon Sancho in 2020 showing that the Bundesliga club are willing to dig their heels if their valuation isn't met.
That valuation does of course mean that Bellingham could indeed stay at the Westfalenstadion beyond the summer, though The Athletic does say that is 'unlikely', with Liverpool, Chelsea, Arsenal, Manchester City, Manchester United, Paris Saint-Germain and Real Madrid all said to be in the market to land a midfielder.
The report says that Bellingham is Liverpool's 'number one target' as the club looks to rebuild a midfield that was torn to shreds by Real Madrid earlier this week.
They say that a move for Bellingham is 'Liverpool's deal to lose' though whether the club would be willing, or indeed able, to meet Dortmund's valuation remains to be seen, though they say that Jurgen Klopp would rather 'spend big' on Bellingham rather than purchase two players for the same overall outlay.
With Liverpool currently struggling in the Premier League, a potential season outside of the Champions League could also have an impact on Anfield's attractiveness in Bellingham's decision.
The report goes on to say that Liverpool's tormentors, Real Madrid, have a 'genuine' interest in the former Birmingham City man, and have held 'informal talks' with the player's camp.
However, sources have reportedly told the publication that they have 'almost no chance of doing the deal' due of the numbers involved, with Los Blancos having set a 'much lower' number than Dortmund's €150 million price tag that they 'will not go past'.
Meanwhile, the report says that Manchester City are interested, but are 'not believed to be favourites', with Bellingham's personal preference being a move to Liverpool.
They add that Manchester United – potentially under new ownership and back in the Champions League – could be ones to watch, the Old Trafford outfit having been keen to sign Bellingham as a 16-year-old and potentially having the financial muscle to do a deal.
As for the rest, The Athletic say that the other interested parties are outsiders, mainly due to the financials involved, with Chelsea having already spent £600 million in the past two transfer windows. while a move to PSG is 'unlikely to appeal'.
While his next club is so far uncertain, one thing that is for sure is that this will be one of the stories of the summer.
Read – Eight of the most memorable games between Man Utd and Barcelona
Read Also – Iconic Performances: Thierry Henry's irresistible display at Inter
Subscribe to our social channels:
Facebook | Instagram | Twitter | YouTube
The post Bellingham future: Liverpool's 'deal to lose', City 'interested', but 'don't rule out United' first appeared on The Football Faithful.