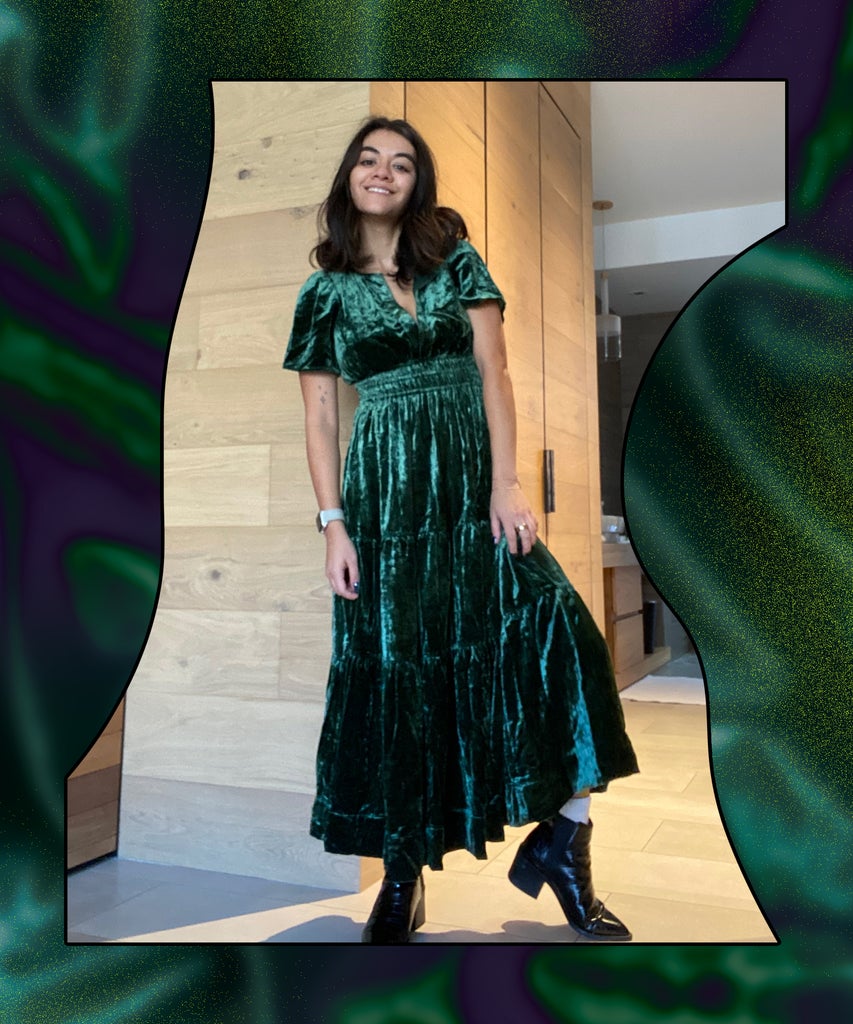 One thing we know for sure: When designers Anthropologie land on a style that shoppers like, they'll figure out how to make it work in every possible way. Take the brand's iconic latte bowls, which have come in seemingly every hue, color, and size over the years. In the clothing department, the endlessly popular, endlessly remixed honor goes to the Somerset dress, which now exists in mini and maxi, linen and leather, and even as a skirt. Earlier this year, we examined the airy linen version of the tiered frock, which was designed for those breezy, summery days. Now, Anthropologie has released an updated luxe velvet version for fall and any upcoming holiday festivities. Instead of summer's light pastel shades, there are rich jewel tones like fuchsia pink, navy, and emerald green. The structure of the silhouette is still the same, but it's more lightweight and eye-catching. And reviewers are equally besotted with the cold-weather version.
Anthro touts the Somerset as its best-reviewed dress ever, and the velvet maxi while still too new to have a ton of reviews, is sitting pretty with a 4.5 rating. Reviewers say it's "extremely comfortable," "timeless," and "the perfect dress for fall." Savvy shoppers also note that, unlike last year's version of the velvet maxi, this one is lined for added comfort. For more insight into this year's go-to dress for holiday parties, weddings, and beyond, four of our writers tried it on IRL to give you a little bit more intel. Keep on reading to discover which colors our writers chose, where they would wear them, and their own styling tips.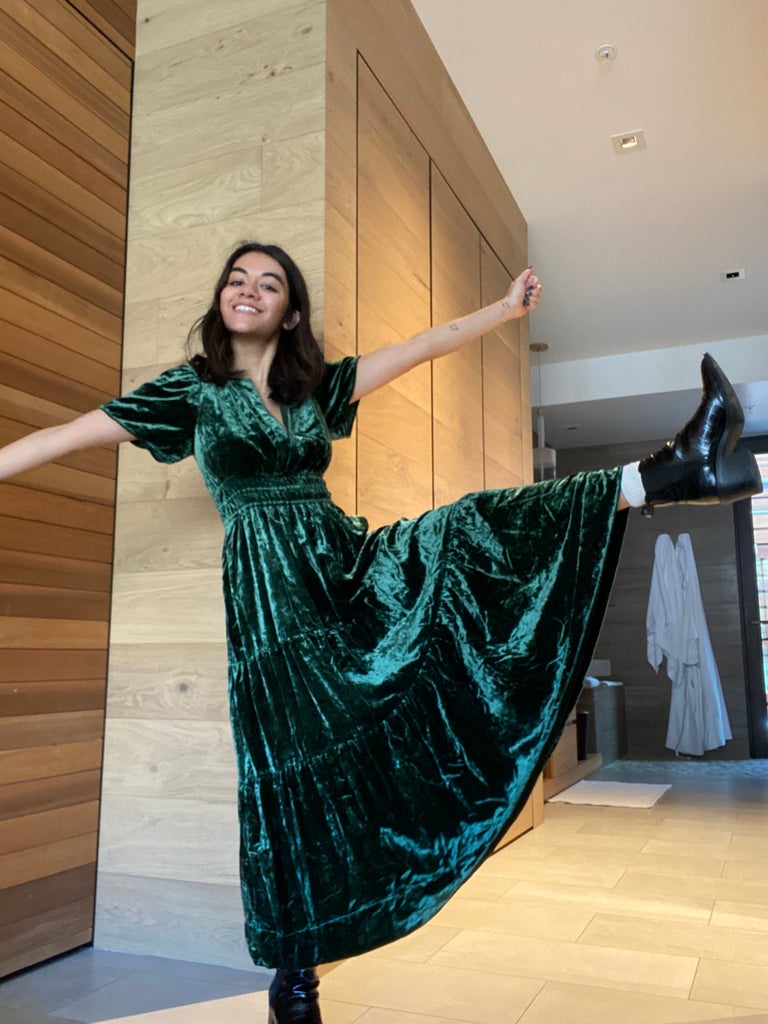 "First off, can we talk about this color? It's the perfect emerald green. I love how the velvet brings major festive vibes while still being so chic. Maxi dresses can feel overwhelming for shorties like me, so the fact that I could get this dress in a petite length is a total game-changer. (I'm wearing an XS Petite.) It's also so comfortable that I could easily see myself dancing the night away in it — and it has pockets!" — Karina Hoshikawa, Senior Writer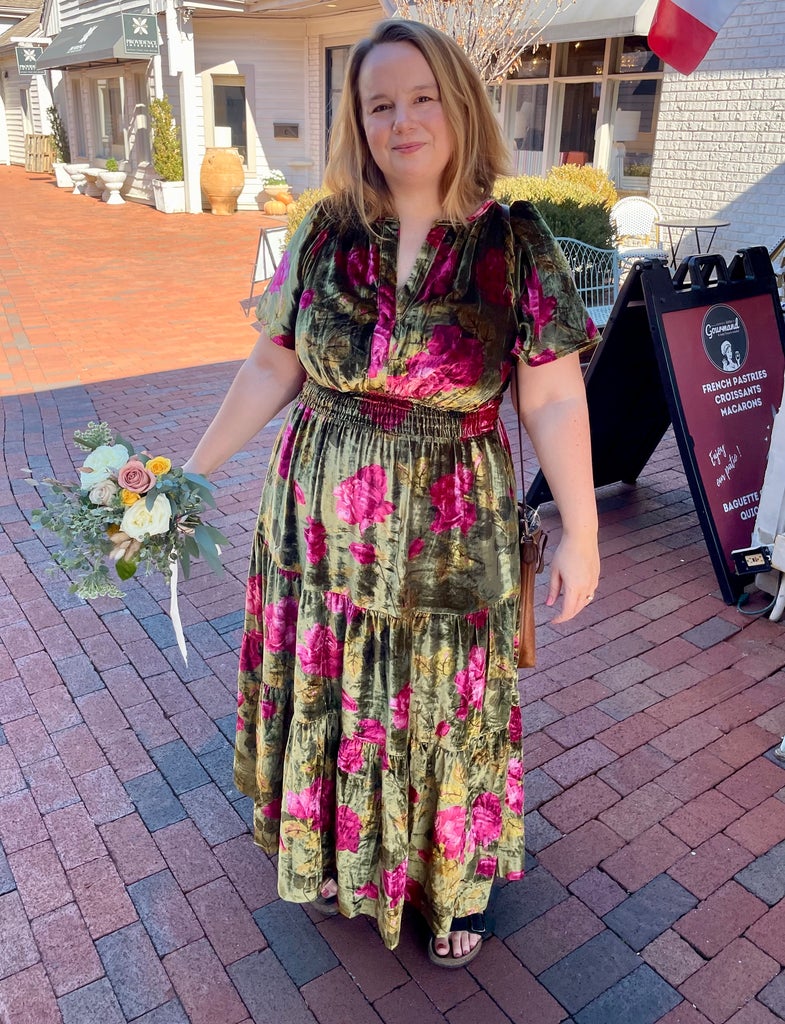 "My high school was all-girls, and we wore uniform dresses every day. That instilled in me a lifelong love of dresses and the belief that, if you like something, you should own it in every color and wear it as much as possible, so the Somerset collection is right up my alley. I actually bought the linen version of this dress the day we published our review of it, and I was excited to get a cold-weather version. It's the same classic feminine-but-still-laid-back silhouette, this time in surprisingly lightweight velvet. One of my biggest bugbears is finding transitional apparel, and I hate that so many winter dresses can just feel too heavy for your average November day in Tennessee. This manages to be something I could wear straight through the coldest days of the year while not being uncomfortably heavy or restrictive. I also love when something this comfortable can be worn to just about any event. I plan on packing it on an upcoming trip for a nice dinner out, but I literally wore it all day the day it arrived. I was actually wearing it on a Zoom call and the person I was talking to gasped when I stood up to get something because she, too, has multiple Somerset dresses."
"Finally, I appreciate that it not only comes in extended sizes (plus sizes run from 1X to 3X) but that it also was sized up well. I am wearing a 1X, and the proportions and silhouette look similar to my straight-sized coworkers. It may seem small if you've never had to shop larger sizes, but sometimes a dress that looks nice in a smaller size can suddenly have odd dimensions, like a gaping neckline or comically large sleeves, if they are poorly graded up." — Marshall Bright, Affiliate Editor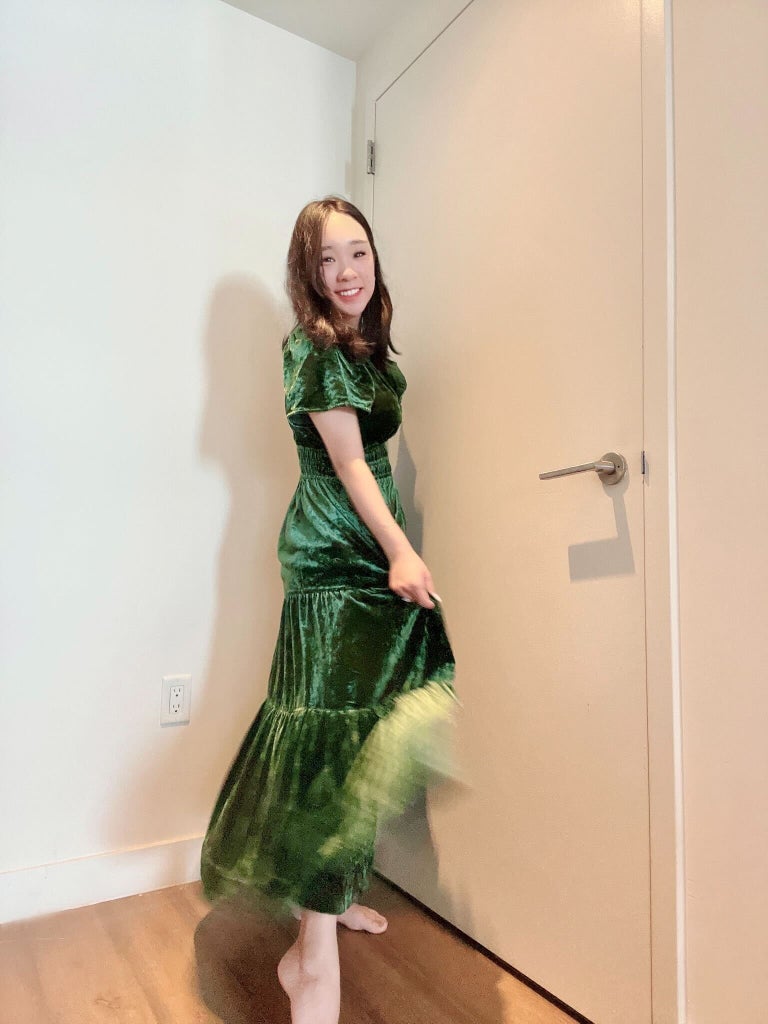 "After owning Anthropologie's Somerset Maxi Dress, I was skeptical about how different the new velvet edition would be. Yet, to my surprise, there were quite a few striking differences. First, the linen variation is quite heavy, and I expected the same outcome from this velvet edition. Instead, it was unbelievably lightweight. The dress simply glided down to my ankles. (I'm 5'5″ and got a size small.) The dress even passed the twirl test — with every tiered dress or skirt, I like to give it a twirl, and this one passed with flying colors. It is not only flexible and easy to move in, so you knew it was dance-approved, but it has the perfect amount of flounce to it.
Also, the velvet was so soft and not itchy at all, which I appreciate for a dress that costs $180. Meanwhile, for the color, I stayed true to my first review and chose another green hue. This time it was in a deep emerald green. Based on the luxe appearance and rich shade, I could envision myself wearing it as a fall wedding guest dress or to an elevated holiday dinner with my timeless pearl Drew necklace from Mon Été Studio and a pair of heels or ballet flats. A drawstring bag or clutch would look great with the frock too. Overall, I'm glad to add this to my fall dress collection and can't wait to style this holiday season." — Vivien Lee, Affiliate Fashion Writer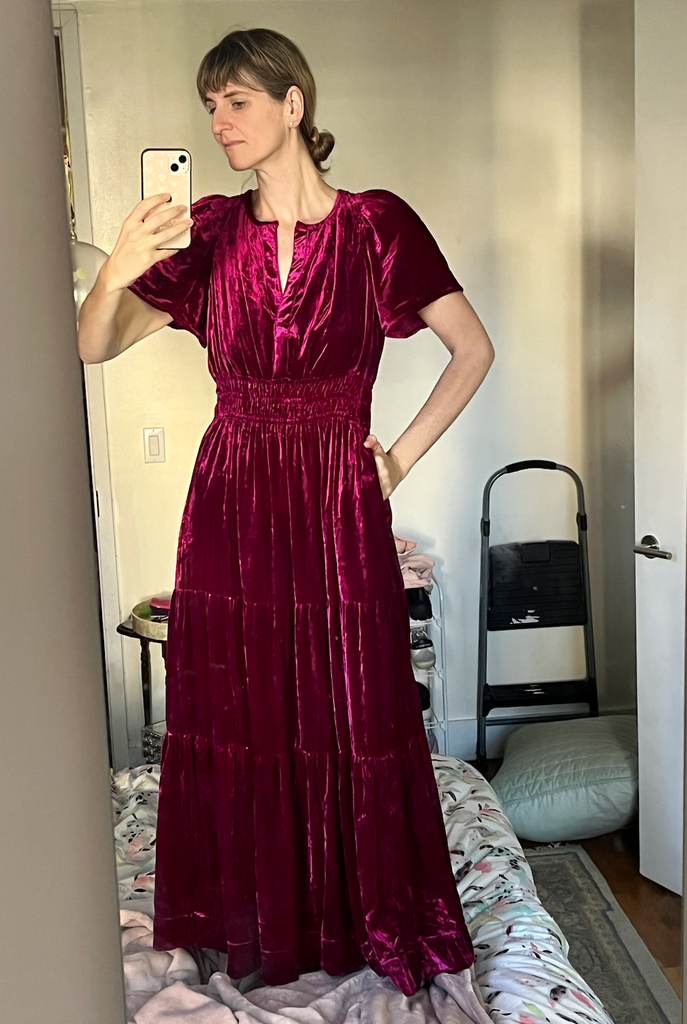 "I ordered the dress in a size small in the color pink, and I honestly couldn't believe how incredible it looked. As my style evolves, I find that I lean more toward form-fitting silhouettes, edgier textures, and dark colors, so this look was extremely outside my comfort zone. That said, I couldn't believe how myself I felt after putting it on.
"I don't know if it's because I had just watched an episode of Interview With A Vampire (or just the effects of the spooky season), but the flowy, tiered silhouette and lush pink color (which became bright fuchsia pops under the light) immediately evoked classic vampire wench, or at the very least, an old-timey witch, ready to work some spells with her coven. I'll be wearing it with my combat boots to edge it up a little bit, but I definitely plan on wearing it all holiday season." — Charlotte Lewis, Sex Wellness Content Producer & Writer
At Refinery29, we're here to help you navigate this overwhelming world of stuff. All of our market picks are independently selected and curated by the editorial team. If you buy something we link to on our site, Refinery29 may earn commission.
Like what you see? How about some more R29 goodness, right here?
The Best Fall Trends You Can Find At Anthropologie
The Best Fall Dresses, According To Happy Shoppers