Located on the Pacific Coast of Costa Rica, Tamarindo is known for its pristine beaches, glorious sunsets, and incredible surfing. Unlike many other parts of Costa Rica, this beach town is much more developed and is therefore much more expensive.
For a traveler on a budget, hostels are one of the best (and easiest) ways to keep daily spending down. With so many unique and fun opportunities to fill your days, most travelers may not mind a shared bathroom situation or a less glamorous view of the beach.
Selina Hostel (Best for Party)
**SPECIAL 10% SELINA DISCOUNT* Use Our Coupon: "TRAVELING-SELINA" while Booking on Selina's Website to Get Exclusive Discount.
HostelWorld (*8.2) Booking.com (*7.4) Map Starts at ($18) for 10 bed-dorm
**prices are shown for weekdays in mid-season (July)
Similar to Pura Vida, the Selina hostel offers many opportunities to enjoy Tamarindo, both on and off its property. Join your dorm mates for a morning yoga session, spend your afternoon learning the technical movements of salsa dancing, or learn to surf and enjoy Costa Rica's most exceptional surfing location. On the weekends, there's no need to seek out nightlife because the Selina hostel is known for its live music and impressive DJ sets. Selina's backyard is considered to be a playground, which offers a restaurant bar, a swimming pool, and tons of opportunities for relaxation. When you're here, you won't need to formulate your evening plans. Visitors to Selina hostel will have plenty of parties and social events to look forward to.
Selina offers comfort for nearly any traveler and a coliving space experience for any digital nomad. Whether you want to be the social butterfly of the evening, or you're looking for a place that allows you to kick back and relax, at Selina, you're guaranteed to find a sleeping situation that suits your needs. Wake up every morning to a vast array of different food options with a breakfast buffet that only costs $5 a person.
Casa Aura Beachfront Premium Hostel
HostelWorld (*9.4) Map Starts at ($30) for 8 bed-dorm
**prices are shown for weekdays in mid-season (July)
Casa Aura Beachfront Premium Hostel is where your modern-day beach cottage meets treehouse. Built from the natural elements of wood and stone, this hostel offers the ultimate beach vacation feel. Whether you're traveling as a single person or you're looking for a place that can accommodate you and your ten closest friends, Casa Aura has many room options to choose from.
While the hostel is only a few steps away from the beach, the property contains plenty of space and activities to keep you entertained. After a long day of being on the go, you can lounge on a beanbag chair or take a nap in one of their comfy outdoor hammocks. And when you're ready to socialize again, play some pool or get to know other backpackers during a ping pong match — all from the comfort of your home away from home.
La Botella de Leche
HostelWorld (*9.3) Booking.com (*8.8) Map Starts at ($15) for 10 bed-dorm
**prices are shown for weekdays in mid-season (July)
Known as one of the first hostels in Tamarindo, La Botella de Leche knows just how to make your stay truly memorable. The laid-back atmosphere, modern decor, and welcoming charm make this place feel more like a private resort than a hostel.
La Botella de Leche is a great spot for travelers who are looking to escape the real world and get re-energized. With friendly staff and daily pool access, travelers are also welcome to lounge in hammocks scattered across the property. Alternatively, for travelers who are looking for active ventures, La Botella de Leche offers private fitness classes, including Ariel yoga, Pilates, TRX training, and even Zumba.
Tamahostel & Glamping
HostelWorld (*8.8) Booking.com (*8.2) Map Starts at ($20) for 8 bed-dorm
**prices are shown for weekdays in mid-season (July)
Set only about 5 minutes from downtown Tamarindo and the beach, Tamahostel & Glamping is literally a perfect base camp for discovering the town and its surroundings. Yes, you got it right, what makes this accommodation stand out among others is its glamping.
The tents feature queen-sized beds with orthopedic mattresses, desks, mosquito nets, and some outdoor seating. But if you're not a fan of "roughing" it, there are normal dorms and private rooms both equipped with ACs.
The property also offers spacious common areas, including a little rancho with hammocks and a saltwater swimming pool, a double kitchen, and a BBQ area. To make your stay in Tamarindo even more comfortable, you can rent a bike and even a surfboard right from the hostel.
Blue Trailz Hostel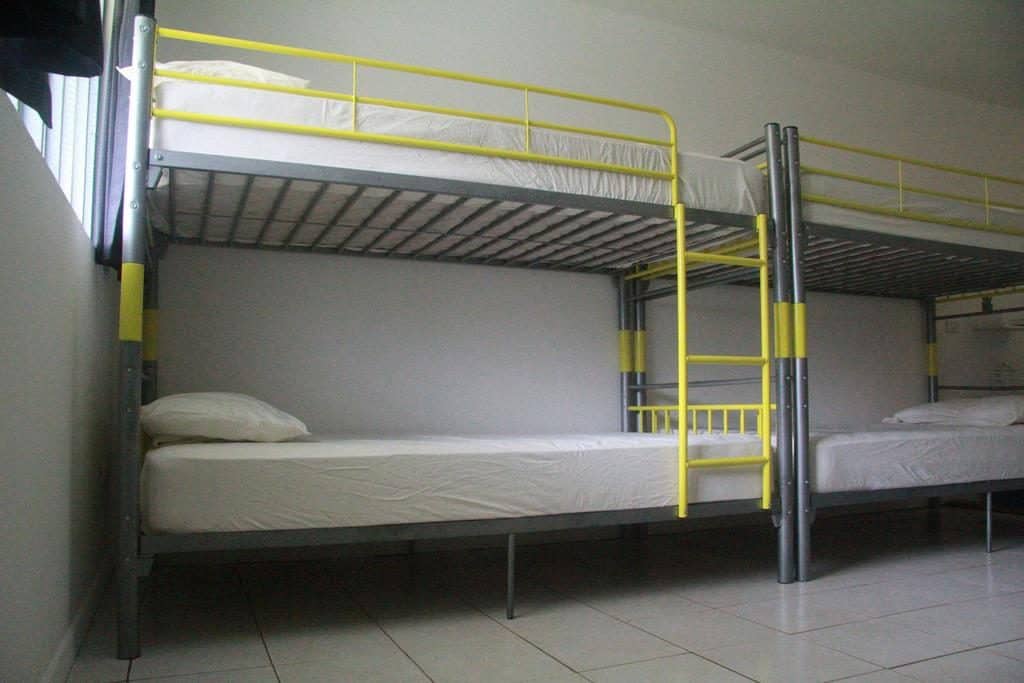 HostelWorld (*9.3) Map Starts at ($15) for 6 bed-dorm
**prices are shown for weekdays in mid-season (July)
Centrally located in Tamarindo, Blue Trails is the perfect hostel for the active traveler. A short distance away from the beach, quality restaurants, bars, and nightlife, you'll never run out of things to do. Besides its convenient location, Blue Trailz is known for its friendly and knowledgeable staff.
Not only are the staff hospitable, but they also know a thing or two about surfing. Whether you're looking to improve your current surf skill set or you're wanting to try surfing for the very first time, the staff at Blue Trailz has you covered. Besides your standard lessons, Blue Trailz Hostel offers a surf camp and a surfing school. When you're there, you can ensure that you'll be able to pick up new skills all while enjoying your luxury vacation. What's even better is that the nearby surf shop offers discounts specifically for Blue Trailz visitors if you're looking to rent a surfboard.
Pura Vida Hostel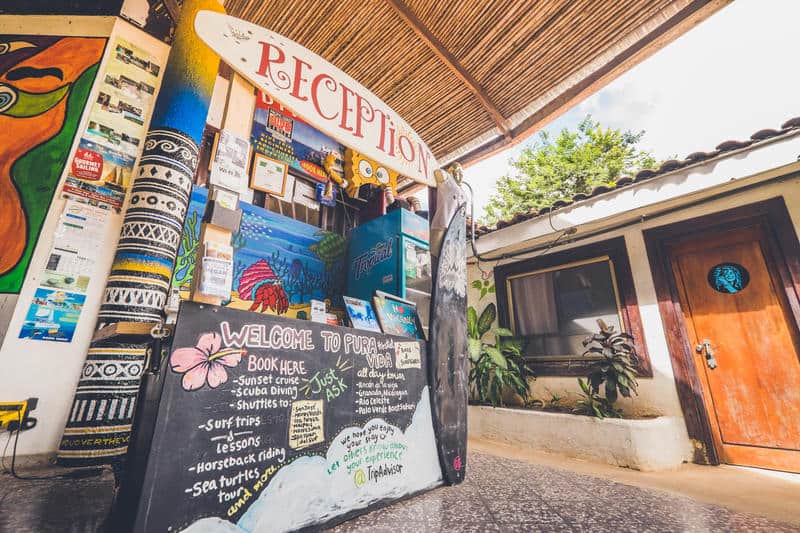 HostelWorld (*9) Map Starts at ($16) for 4 bed-dorm
**prices are shown for weekdays in mid-season (July)
Located right outside of Quepos, the Pura Vida Hostel has a definite jungle-like feel to it. Surrounded by lush greenery and wildlife, run-ins with iguanas, monkeys, and even sloths, are somewhat frequent. While this place is more inland and doesn't offer beachfront views, this hostel is very budget-friendly.
Pura Vida comes with a clean and fully stocked kitchen, making meal preparation that much more comfortable. When it comes to your sleeping situation, Pura Vida has a combination of private, air-conditioned rooms, as well as shared sleeping dormitories.
The atmosphere of the hostel is amazing and every backpacker will fall in love with the place! There is always something going on, Pura Vida is an art hostel and hosts live painting and events every second day.
Tamarindo Hostel Resort
Despite the somewhat misleading name, Tamarindo Hostel Resort feels more like your typical hostel than a private resort. If you're looking for calm and quiet, opt for one of their private suites. All suites come with air conditioning, hot water, a television, and even cable. If you're looking to socialize and meet other backpackers, a shared dormitory is a much more practical and cheaper alternative. While the bathroom situation may get crowded, Tamarindo's Hostel Resort always ensures to keep the place squeaky clean.
In total, there are 30 different types of rooms to choose from, suited for everyone's comfort, needs, and budget.
Pura Vida Mini Hostel (Great for Solo Travelers)
HostelWorld (*7.9) Booking.com (*7.8) Map Starts at ($13) for 9 bed-dorm
**prices are shown for weekdays in mid-season (July)
For backpackers who are looking to kick back and relax, Pura Vida Mini Hostel is the ideal place. When you're here, you don't have to think about or plan a single thing. The welcoming and accommodating staff are more than willing to take care of business for you. Pura Vida takes it upon itself to plan and organize fun activities for its visitors.
While you're here, savor communal BBQ dinners, find your rhythm through salsa lessons, or enjoy bonfires on the beach. For travelers who are looking to have more of a low-key experience, Pura Vida hosts nightly card and board games, movie nights, and occasional beer pong. In addition to running its very own event comity, Pura Vida partners with local businesses, allowing them to offer a special discount for all of their guests. Discounts include yoga classes, local pool access, surf lessons, and surf rentals.
Sunset Hostel (with the Best View)
Booking.com (*6.3) Map Starts at ($43) for a double-bed room
**prices are shown for weekdays in mid-season (July)
For the Sunset Hostel, the name truly speaks for itself. With a location on the third floor, travelers are guaranteed to experience Tamarindo's pristine sunsets. While the rooms themselves don't have windows, the shared space and rooftop are great places to enjoy Tamarindo's glorious ocean views.
Though the hostel might seem far away from all of the main activities, it's located only a block away from the beach and some of Costa Rica's prime surfing locations. For travelers looking to escape the heat, you'll be pleased to know that the Sunset Hostel has air conditioning in all four dorms and three private rooms.
Bottom Line
Regardless of where you choose to stay, Tamarindo, Costa Rica, will always be an adventure. Now that you have your hostels all figured out, it's time to think about what you should be packing. Need help getting started? Check out our top 10 backpacking tips and hacks for beginners.
FAQs about hostels in Tamarindo
What is the best hostel in Tamarindo for solo travelers?
Pura Vida Mini Hostel is the best hostel for solo travelers. The welcoming staff organizes a myriad of activities, such as communal BBQ dinners, movie nights, or beer pong, where you can socialize with fellow guests.
What is the best party hostel in Tamarindo?
Selina Hostel is the best place to stay if you want to party. They organize various sorts of events, including party nights with live music or a DJ.
How much are hostels in Tamarindo?
Tamarindo is a very popular destination. And therefore, it's one of the more expensive areas in Costa Rica. On average, a night in a hostel in a dorm will cost you $17, while a double room is usually around $45.
Is Tamarindo safe?
Tamarindo is one of the safest areas in Costa Rica. However, you should take regular safety precautions, such as not flashing valuables in public, avoiding deserted areas, and walking around alone at night.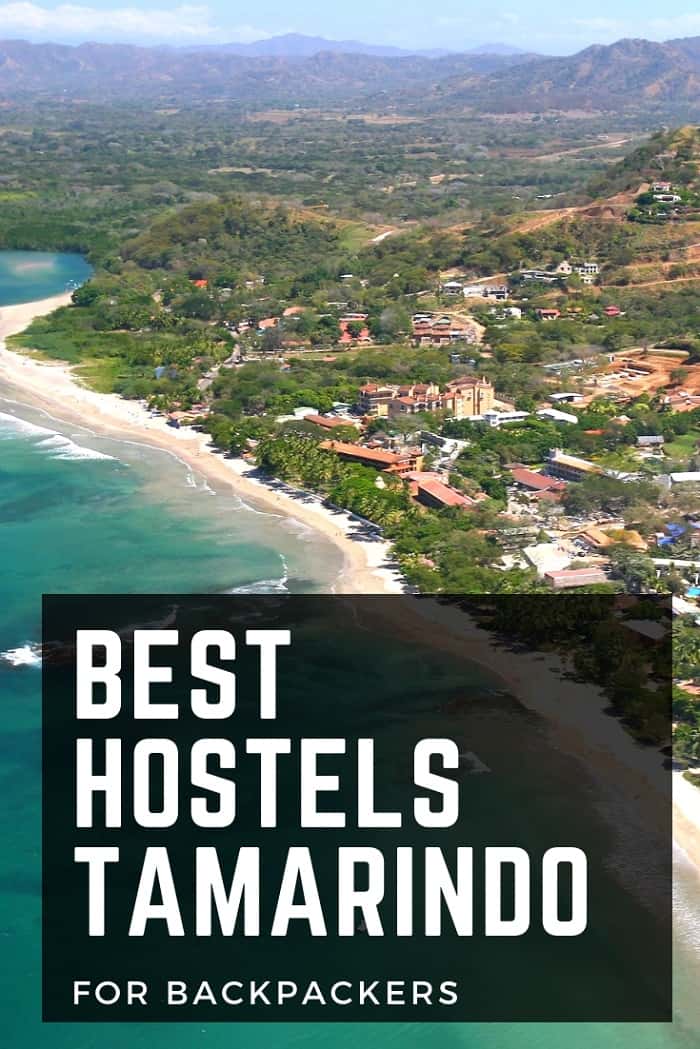 The post 9 Best Hostels in TAMARINDO for Solo Travelers, Party & Surf in 2023 appeared first on Traveling Lifestyle.