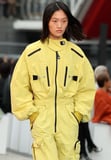 When you think about revamping your look for the warm-weather season, start by picturing the color trends we saw on the spring and summer 2023 Fashion Week runways. Not only are the blooming flowers, longer days, and sunny skies enough to inspire a more vibrant wardrobe, but this season specifically brings with it a bevy of shades that will truly turn heads. Some of the hues of the season center around bright, bold tones like kelly green, classic cobalt, and fiery red. And others speak to a slightly more muted pastel-based palette: think butter yellow, powder blue, and electric lilac. But regardless of where it falls on the color wheel, all these tones signal a cheerful, playful approach to shopping come spring and summer.
With weather slowly beginning to mellow, warm days peppered throughout the otherwise cold season, and vacations on the horizon, draw inspiration from the color choices of the spring/summer runways. Designers like Valentino traded Barbie pink for the fashion house's iconic bright-red hues; Victoria Beckham went for a soft, powder-blue hue; and designers like Jason Wu and Carolina Herrera opted for a soft butter yellow that can act as a neutral or a pop of color, depending on how you style it. The list goes on.
It's time to look back to the spring and summer runways for everyday wardrobe inspiration. Ahead, take a deep dive into the delicious tones of the season: fiery red, butter yellow, kelly green, classic cobalt, powder blue, and electric lilac.