Until March 2022 Apple sold two sizes of iMac. It used to be the case that the smaller model was more suited to home users due to its less powerful processor and integrated graphics, while the larger 27-inch model, with its more powerful processor and discrete graphics, was meant to be powerful enough for high-end users like designers and others in the creative industries.
Apple introduced a 24-inch iMac in 2021 that replaced what used to be a 21.5-inch iMac. We hoped following the introduction of that model, which featured a colorful redesign and Apple's M1 chips, that Apple would also update the 27-inch iMac with Apple's own M-series processors. Instead Apple introduced the Mac Studio in March 2022, a Mac that seemed to take the mantel from the 27-inch iMac as the desktop for creatives. And sure enough Apple discontinued the 27-inch iMac at the same time.
But the story doesn't end there. Over the past few years there have been rumors that Apple had plans introduce a new version of the iMac Pro that would also mark the return of the 27-inch iMac.
You might be thinking these rumours were laid to rest when Apple discontinued the 27in iMac in March 2022 after introducing the Mac Studio and Studio Display in its place. Is there even a need for a new iMac Pro now the Mac Studio has arrived? We think there will always be room for a pro desktop with a large screen built in. See: How the iMac Pro could come out of retirement to dominate the desktop.
In this article we'll evaluate the reports that suggest that Apple could revive the old brand with a brand new iMac Pro. Read on to find out when it could launch and what features it might offer.
Will there be a new iMac Pro? Will Apple bring back the 27-inch iMac?
The rumors that Apple would revive the iMac Pro have been circulating for years. Back in October 2021, in a tweet that is no longer online, retired Apple leaker Dylan tweeted the following about a iMac Pro:
iMac (Pro)
Promotion and Mini Led
Base model 16gb Ram 512gb Storage
M1 Pro and Max
Dark bezels
HDMI, SD Card, Usb C
Similar design to iMac 24 and Pro Display XDR
Starting price at or over 2000 dollars
Ethernet on brick standard
Face ID was tested (Not confirmed)
1H 2022
— Dylan (@dylandkt) October 30, 2021
Clearly Dylan was incorrect about this prediction, but he wasn't the only one suggesting that a Apple had plans for a new iMac Pro.
According to LeaksApplePro (via Howtoisolve in January 2023) a new iMac Pro, with M2 Pro and M2 Max processors, will be released in 2023. However, LeaksApplePro has been criticised by the likes of Bloomberg's Mark Gurman, who called him a troll. So maybe we should take that claim with a pinch of salt.
Perhaps those two sources can't be trusted, but they aren't the only ones making predictions about a new iMac Pro. In fact, Gurman himself has also predicted that an iMac Pro is coming. Unfazed by the release of the Mac Studio and the removal of the 27in iMac from the line up following the March 2022 Apple event, Gurman wrote in April 2022: "For those asking, I still think an iMac Pro is coming. It just won't be anytime soon."
Analyst Ming-Chi Kuo has also made predictions about a new iMac Pro, although not since March 2022 when he tweeted that an iMac Pro would ship in 2023.
In July 2022 a report on Macrumors, based on information shared by source to a forum member – so we can't vouch for its accuracy – suggested that "Apple prototyped at least three larger iMac models with Apple silicon chips" in 2021.
Display Supply Chain Consultants analyst Ross Young has also made observations that a new 27-inch iMac was coming based on his own sightings of 27-inch displays. For example, in October 2021 he tweeted that a 27-inch MiniLED screen would be used in an iMac in Q122.
However, Young later admitted that these sightings could have been in relation to the Studio Display, which subsequently launched alongside the Mac Studio in March 2022.
27-inch iMac Pro: Release date
The arrival of the Studio Display hasn't meant that Young has stopped believing that there is a possibility that Apple has plans for a new 27-inch iMac. In February 2023 Young told MacRumors that Apple's plans for a 27-inch screen with ProMotion support (with refresh rates up to 120Hz) had been delayed and it will not launch in the first quarter of 2023 as he had expected. He did note that this display could be destined for a 27-inch iMac, or it could be a new Pro Display XDR, though.
Young isn't the only one referring to delays. In December 2022, Mark Gurman indicated that the iMac Pro had been delayed, citing (as with the new Mac Pro) high development costs and difficulties engineering chips as the cause of the delay. In his first newsletter of 2023 Gurman also wrote that the iMac Pro "has been on and off Apple's road map", and that "I would be surprised at this point if it arrives in 2023".
So a 2023 iMac Pro launch is looking unlikely at this point, despite the fact that the iMac will be 25 years old on Tuesday 15 August, 2023. Wouldn't that be a fitting date to launch a new iMac? Unfortunately, even new 24-inch iMac isn't expected until the end of 2023, or maybe early 2024. See: New 24-inch iMac: Release date.
27-inch iMac Pro: Design & Colors
In a July 31, 2021 newsletter (subscribers only) Bloomberg's Mark Gurman suggested that the new iMac Pro will have "a similar design to the current M1 iMac."
It makes sense that the iMac Pro will borrow some of its design inspiration from the 24-inch iMac. Apple offers the 24-inch iMac in several color choices, but there haven't been reports on what color choices Apple will use for the iMac Pro. To create a differentiation between the consumer and pro levels, Apple may decide on different color choices as with the iPhone Pro, or stick with the traditional silver like that on the 27-inch iMac or Space Gray like on the discontinued iMac Pro.
Another difference we could see on the larger iMac is dark bezels rather than a white border around the screen. Read: Why we are disappointed in by the new iMac design. There may also be a notch as there is with the 14-inch and 16-inch MacBook Pro. This could allow Apple to extend the height of the screen as it has with these models.
We'd also like to see the iMac Pro lose some of it's 'chin'. Based on teardowns of the iMac and the Studio Display, and the low power and heat requirements of Apple silicon, a chinless iMac Pro could be possible.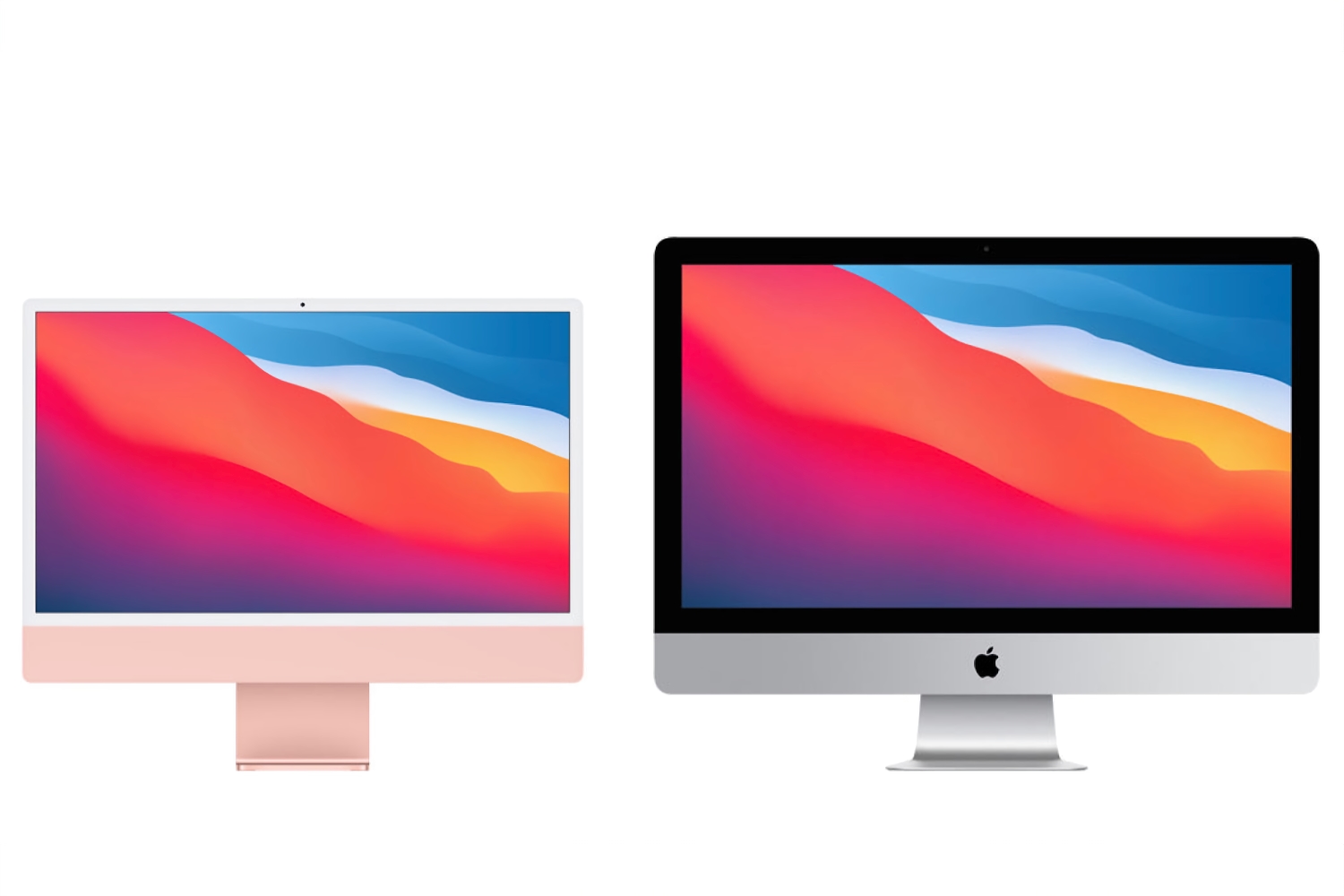 Apple
27-inch iMac Pro: Screen size & technology
Display analyst Ross Young and others have stated that the iMac Pro will have a 27-inch display, which we have to admit to being disappointed by. A larger display would certainly make the iMac Pro more attractive to potential buyers. Next to the 24-inch iMac, with its 4.5K display (4,480 x 2,520 pixels), the 27-inch iMac only looks slightly more impressive with its 5K display (5,120 x 2,880 pixels). But it's not only the 24-inch iMac that the iMac Pro will be compared to – the 27-inch screen also doesn't compare particularly favourably with many modern displays that are larger than 30-inch (including the 32-inch, 6K Apple Pro Display XDR). We would like to see a 32-inch display on the new iMac Pro.
Gurman has predicted that the 27-inch iMac could see its display size increase by a similar amount to the 24-inch iMac: "I absolutely still believe that a larger, redesigned iMac to replace the Intel 27-inch models is en route. Apple increasing the screen size of the smaller model from 21.5-inches to 24-inches seems to indicate that the 27-inch model could see a size increase as well," he wrote.
A larger display could be possible without increasing the size of the iMac significantly. The 27-inch iMac measures 25.6-inches wide, 20.3-inches tall, and 8-inches deep, and while Apple's new design helps make the 24-inch iMac smaller than the 21.5-inch iMac it replaced, there isn't that much of a difference in size (21.5-inches x 18.1-inches x 5.8-inches (with the stand) vs 20.8-inches x 17.7-inches x 6.9-inches).
The new iMac Pro wouldn't actually need to be as big as the Pro Display XDR to offer a 6K display. A 30-inch display with smaller bezels could still accommodate the 6,016 x 3,384 pixels for Retina 6K resolution and a 6K iMac.
Display technology
LeaksApplePro made comments in December 2022 that indicated that the iMac display will be of lower quality than a new 27-inch LED mini display that is set to be launched alongside the new Mac Pro. Of course, the main problem with this rumor is that Mark Gurman has warned against listening to this particular Apple watcher.
It is possible that the screen of the iMac may be more comparable to the quality of the current 27-inch Studio Display, which lacks ProMotion and HDR, but these are both features that would be beneficial to a iMac Pro user. Apple has added those features to its other Pro devices–iPhone, iPad, MacBook, we'd like to see them here too.
To get an idea of what we could expect with the display in the larger iMac, if Apple takes is beyond the Studio Display we can look at how it compares to Apple's Pro Display XDR.
Pro Display XDR: 6K Retina display (6,016-by-3,384 resolution), 1,000 nits (XDR) or 500 nits (SDR) brightness, wide color (P3), True Tone
Studio Display: 5K Retina display (5,120-by-2,880 resolution), 600 nits, wide color (P3), True Tone
The upcoming larger iMac is likely to have smaller bezels than the 27-inch iMac and iMac Pro, which could help the display reach a higher pixel density without having to make the display much bigger. A rumor by Ross Young in October 2021 and a follow-up report in December 2021 claimed that Apple will bring a Liquid Retina XDR display with "around 1,000 zones and over 4,000 mini-LEDs" to the iMac. That would be fewer than the 10,000 mini-LEDs in the iPad and the 8,000 mini-LEDs in the MacBook Pro, though it would likely be visually indistinguishable due to the size and viewing distance.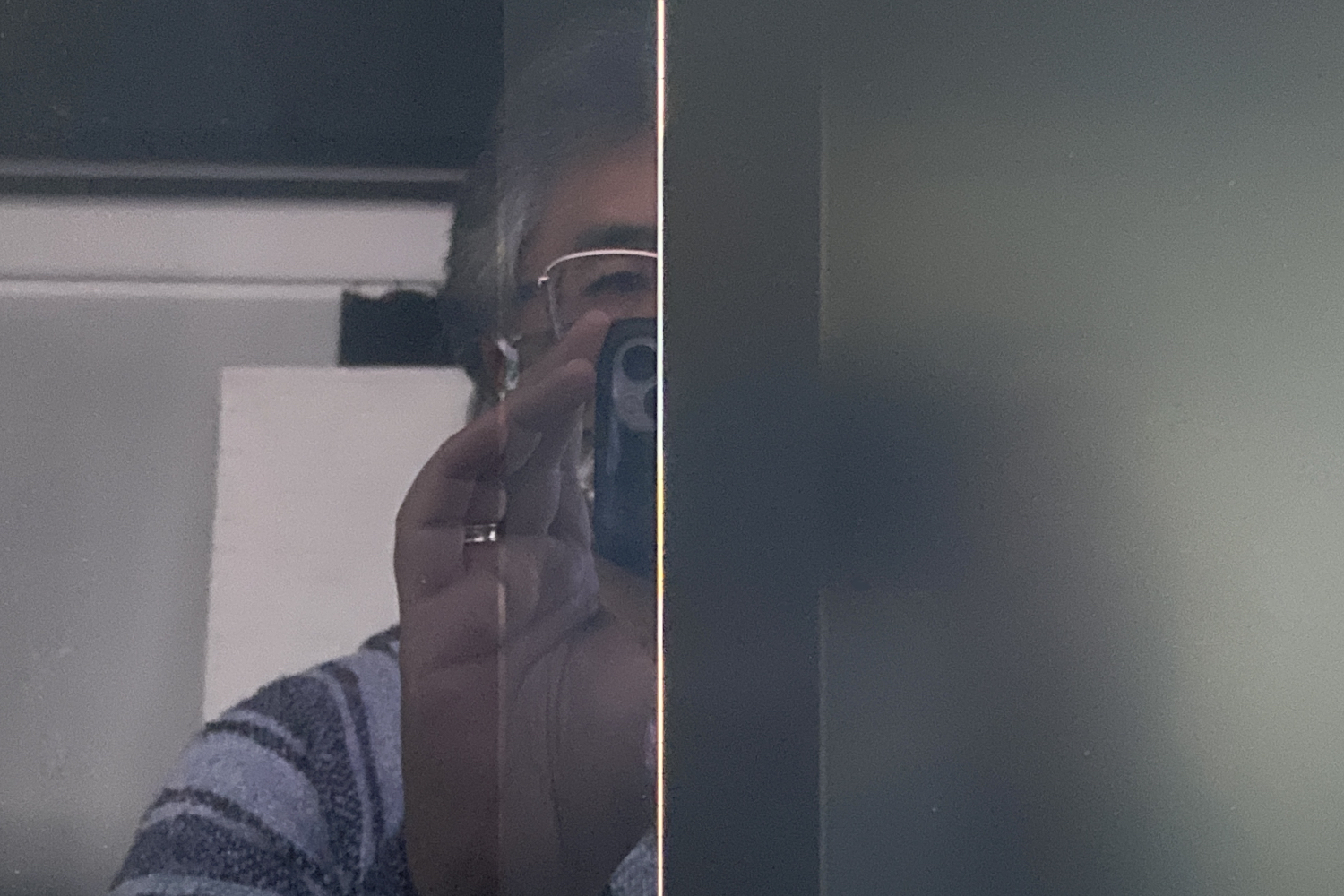 IDG
The 27-inch iMac used to ship with standard glass on the front of the display, but (for $300) Apple offered a nano-texture glass that provided a matte-like finish and did a good job of cutting down glare. Apple will probably continue to offer this with the new iMac Pro. As you can see above, it dramatically cuts down on the gloss and glare.
27-inch iMac Pro: Processor
Bloomberg's Mark Gurman reported back in January 2022 that the iMac Pro would have "similar chips to the M1 Pro and M1 Max processors inside of the MacBook Pro." That rumor came before the launch of the Mac Studio, which did ship with M1 Pro and M1 Max chips, so it seems likely that Gurman's source was referring to that machine.
Now that there are M2 Pro and M2 Max chips available in the MacBook Pro (and the Mac mini has gained an M2 Pro) will the iMac Pro ship with M2 Pro and M2 Max? There are rumors suggesting that this won't be the case: reports suggest that the next iMac will ship with M3 chips. Gurman has repeatedly claimed that Apple will bypass the M2 and move straight to the M3 chip for the next generation of the 24-inch iMac and it is possible that the iMac Pro will also make the same leap, although there are no recent rumors about what chip will be used.
It's also not clear what chips will be used in the new Mac Studio, which is still shipping with M1 Max and M1 Ultra chips. There is some confusion about how Apple will differentiate the Mac Studio and Mac Pro if the new Mac Pro also ships with Max and Ultra chips, just like the Mac Studio. Perhaps the iMac Pro will only offer the Pro chips, leaving the Max for the Mac Studio and the Ultra for the Mac Pro.
27-inch iMac Pro: Graphics
Assuming that the iMac Pro shipped with the M2 Pro chip we could expect up to 19-core GPUs. If Apple does use the M2 Max in the new iMac Pro we could see up to 38‑core GPUs. Read: What to expect from Apple's M2 Pro, Max, Ultra and Extreme processors.
We have reviewed the MacBook Pro with M2 Pro and found that "the M2 Pro MacBook Pro has some serious GPU power".
27-inch iMac Pro: RAM
The M2 Pro can support up to 32GB RAM while the M2 Max can support up to 96GB Unified Memory. This is less than the 128GB RAM that was supported by the 27-inch iMac. This could be a disappointment to users.
One limitations of Apple's RAM is that it will not be user upgradable. The 27-inch iMac had RAM slots that were user-accessible. With Apple silicon RAM – properly called Unified Memory – is built into the SoC, so it is not user upgradable.
However, Apple offers up to 128GB with the M1 Ultra in the Mac Studio, so it is possible that there will be an adequate RAM allocation in the iMac Pro.
27-inch iMac Pro: Storage
Dylan's October 2021 tweet also suggested that there will be 512GB storage as standard with the new iMac (Pro).
That would be an improvement on the 256GB offered by the entry-level 27in iMac prior to it being retired. But it would follow the pattern of the 16-inch MacBook Pro which has 512GB and 1TB options for the standard machines (and 8TB as a build to order option).
27-inch iMac Pro: Ports and expansion
The 24-inch iMac comes with two USB 3 ports, two Thunderbolt 4 ports, and a headphone jack. After Apple launched the MacBook Pro with HDMI and an SDXC card slot, rumors suggested the iMac would follow suit. The thin enclosure could be an issue, but Apple solved that issue on the 24-inch model by putting the headphone jack on the side. Apple could position the SD slot similarly to avoid making the iMac thicker. W
For all but the entry-level 24-inch iMac, Apple placed the ethernet port in the power adapter brick. The same power adapter is likely to be used for the larger iMac as well.
Apple
27-inch iMac Pro: Other features
The 24-inch iMac has improved FaceTime cameras that uses the M1's ISP to provide better image quality. That same FaceTime camera implementation is expected for the larger iMac Pro as well.
We'd like to see the camera also support Face ID. True Depth references were spotted in macOS Big Sur indicating that this was something Apple had looked at. However, no Mac has yet arrived with support for Face ID. If it doesn't have Face ID, the new iMac will have Touch ID built into the keyboard, that being offered with the 24-inch iMac and the Touch ID keyboards.
27-inch iMac Pro: Price
As for the price, it will likely fall in line with the pricing of the 27-inch iMac, which started at $1,799 since Apple kept similar pricing to the 21.5-inch iMac when it launched the 24-inch model. It's also possible that the price will be a bit higher, perhaps starting at over $2,000, which would be more in line with Apple's price increase for the higher-end MacBook Pro.
A higher price is likely outside the U.S. where Apple has been increasing prices in line with the exchange rates.
iMac