Fortunately, businesses are starting to trend towards remote work and simply not requiring that the person they hire can do the job but that they are willing to learn and can be trained for.
With that said, keep in mind that there are some careers and jobs where you already might have the experience and you just need the training to make it a proper skill.
Try taking surveys, one of the most popular side hustle jobs!
Suggestion:
– Best Remote Jobs 2023 (High-Paid)
– 50 Remote Job Sites to Find Your Dream Career
Here is our list of the most demanded entry-level remote jobs:
Writer/Copywriter
Writers provide content to numerous companies. This can be done in a variety of languages and is often related to pieces written for websites, newsletters, emails, social media posts, and blog entries. In fact, writing was a remote job long before that become increasingly popular – i.e. before the advent of computers.
Websites where you can start with writing gigs:
Writeraccess.com – a content writing marketplace where you can pick up plenty of copywriting gigs on daily basis.
Customer Service
In most cases, working in a customer service position simply requires taking part in on-the-job training to learn the information about the company that you need to know in order to effectively do the job. As long as you have communication skills that you can combine with, you should be set.
Entry Level Programming
An increasingly popular type of work that simply requires those entering it to know the information necessary is this one. Programmers write programming code and debug any already written code that is experiencing issues.
Some of the positions require just a few weeks of training before you can actually start doing them and continue improving. You can find many of these open positions on job websites such as indeed.com.
Call Center Representative
If you have a natural talent for listening, troubleshooting, and offering excellent customer service, taking calls (from the comfort of your sofa) is a terrific way to gain some experience. The majority of your duties as a call center representative will involve answering inbound customer calls, while certain jobs also need you to place outgoing calls. Check for open positions on simplyhired.com
Marketing Assistant
Although a marketing assistant's duties can vary, they virtually usually center on a company's marketing strategy. The real prerequisites for this profession include being sociable, easy to deal with, and quick on your feet. You may be tasked with gathering data on a target demographic or monitoring market trends.
Tutoring
More and more individuals are taking part in online tutoring, and being a tutor generally does not require any type of degree in order to receive the opportunity to do this job. You just need to have a firm handle on the topic that you are tutoring and you can be trained for that.
Teaching English
First, a caveat for this one: in many cases, teaching English does require that applicants have at least a bachelor's degree. However, there are definite exceptions. Otherwise, the skill set necessary is similar to tutoring, more specifically your ability to communicate well with others and be patient while doing so.
Virtual Assistant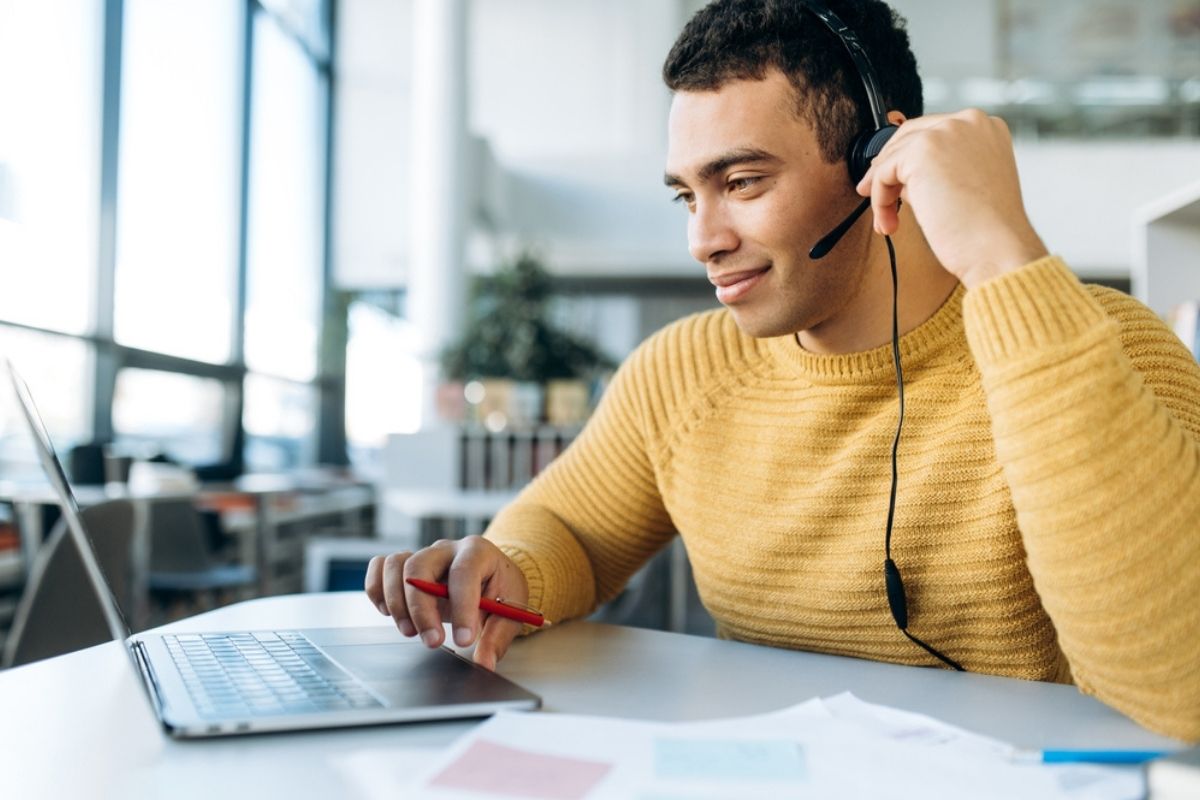 These individuals assist others with things that they may not have the time to do or are interested in doing.
Examples of activities that you may do as a virtual assistant include filling out their schedule and reading their emails, managing websites, customer support, managing eCommerce, etc.
Virtual Assistant is a very trendy job position in high demand, check this list of best websites to find one.
Entry-Level Graphic Designer
Graphic design is a field that individuals can self-teach themselves into. These skills would then be used to create various types of art that are useful for companies and individuals.
Data Entry/transcribing
Data entry is a position that requires you to essentially copy text from one place to another. The main skill that is required is the ability to type fast. Conversely, those who engage in transcribing listen to an audio file or watch a video and type what is being said.
Arts Teacher
If you are talented in one or more of the arts, you can utilize that skill in remotely teaching it to others. This can be applied to those who engage in the performing arts, such as dancing or singing, as well as artists who do things such as paint.
Fitness Trainer
Individuals skilled in physical fitness can turn that ability into helping others improve their own physical state. This can consist of doing activities as varied as yoga and weight training. Ensuring that the person being instructed is doing the activity in a safe way is an important element of this remote job.
Taking online surveys
An online survey job is a way to earn money by filling out questionnaires. Anyone with an email address, a computer and an internet connection can complete surveys from home. Surveys can take many forms but usually consist of several pages of questions about your habits and interests.
Taking surveys is one of the easiest ways to make money online. All you have to do is sign up, create a profile and post comments about ads, articles or services.
Translation
When the economies of many countries are so closely linked, translating text or speech into another language is critical.
Translation software, while useful, exposes companies to baffling or embarrassing errors – a human touch is needed to ensure the end result makes sense. Employees in this sector must be fluent in more than one language and have great writing skills.
Tech Support
Tech support specialists assist organizations by helping with employee or customer technical problems. Although some jobs require a strong understanding of computers, you can easily train and start at lower support levels without any experience!
A technical support specialist can help employees or customers troubleshoot technical problems, depending on the company. Computer systems maintenance is also part of this industry.
Open positions on: simplyhired.com
Voice-over actors
Voiceover actors use their voices to tell stories, develop characters, convey important information, and connect with audiences.
The flexible lifestyle of working from home is drawing new talent into this well-known profession every day, and the need for voiceover talent only seems to be increasing as more and more projects come in from lucrative Internet marketplaces such as the audiobook, online education and mobile app sectors.
Voice-over actors can work remotely if they have the right audio equipment and good sound quality. This includes headphones, a good microphone, acoustic insulation, audio editing software, and a computer to store the recordings.
Interpretation
To begin with, it is important to distinguish interpreters from translators. Translators usually undergo extensive academic training over several years to be able to accurately translate books, media, and various sources, while interpreters may simply be people who speak two or more languages.
The job description of an interpreter is to facilitate effective communication between individuals or groups who speak different languages. Interpreters are responsible for translating spoken messages from one language to another in real time to ensure accurate and meaningful communication. They may work in a variety of settings, including conferences, meetings, court proceedings, healthcare facilities, and community events.
Check remote positions at indeed.com.
Freelance Photographers
Entry-level freelance photographers capture moments and create stunning visual content for a variety of clients on a project-by-project basis. They have a keen eye for detail and composition and use their technical skills to manipulate lighting, angles, and settings. These photographers work independently, finding their own clients, negotiating contracts, and managing their schedules.
They may specialize in areas such as events, portraits, landscapes, or product photography. The job requires knowledge of using professional cameras, lenses, and editing software. Freelance photographers work closely with their clients to understand their vision and deliver high-quality images that meet their needs.
Dancing teachers
A remote dancing teacher is a professional dance instructor who provides dance lessons and guidance to students through virtual platforms and online mediums. Instead of teaching in a physical studio or classroom, a remote dancing teacher utilizes technology to conduct dance classes remotely. They may use video conferencing tools, pre-recorded videos, or online dance platforms to deliver dance instruction to students who can participate from their own locations.
Remote dancing teachers possess the necessary dance expertise and teaching skills to effectively communicate and demonstrate dance techniques, choreography, and provide feedback to students in a virtual setting. They play a crucial role in keeping students engaged, motivated, and progressing in their dance training, despite the physical distance between the teacher and students.
Sales Representative
You like dealing with people, but you also want the flexibility of a job where you can work from home. The best industry for this is sales.
Plus, it's a job that can be lucrative even if you do not have any experience. The reason for this is that most sales representatives receive a commission when a deal is made. So the better you are at your job, the more opportunities you have to earn extra money.
Average salary: $55,934 base salary and $84,295 total pay including bonuses and commission (Glassdoor)
Junior HR Generalist
A Junior HR Generalist is an entry-level position within the Human Resources (HR) field. Individuals in this role typically provide support to HR teams and professionals in various HR functions such as recruitment, employee onboarding, benefits administration, record-keeping, and other general HR tasks.
They often assist with maintaining employee records, handling paperwork, and responding to basic employee inquiries. Junior HR Generalists are in the early stages of their HR careers and may have limited experience compared to more senior HR professionals. Over time, they may gain more responsibilities and experience, potentially leading to higher-level HR roles.
The post 21 Best ENTRY-LEVEL Remote Jobs In High Demand In 2023 appeared first on Traveling Lifestyle.