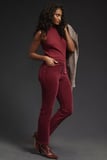 I'm a denim girl through and through. But during the winter months, even I get fatigued by having to wear the same pairs of jeans all throughout the season. Sure, I can always invest in more denim styles to add to my ever-growing collection – but sometimes it's nice to spice up my wardrobe with other cold-weather pieces that provide all the same coverage and comfort of a classic denim pant, but without the exhausted jean look. That's why corduroy pants have become my go-to bottom to wear this winter. And with TikTok's current obsession with the style (thank you to the cozy girl aesthetic!), I don't see the trend fading anytime soon.
Corduroy pants are a quintessential winter style – and for good reason. They're cozy and thick, courtesy of the pant's buttery-soft corduroy material, and they typically feature a corded lining, which helps to elevate the bottom with an added texture. Corduroy styles are often available in a wide variety of seasonal colors, too – usually ranging in everything from mustard-colored iterations to green corduroy pants, neutral-colored bottoms, and even classic brown corduroy pants. While the cozy bottom boasts an undeniably luxurious feel, the pant can also be pretty reasonably priced, too – unlike some of its other winter style counterparts (looking at you, faux-leather pants!).
If you (like me) are fully on board with the corduroy-pant trend and are hoping to stock up on a few styles of your own, keep reading to browse through our picks for the best corduroy pants for women to shop this season. These styles are so chic, you may even forget your jeans altogether!