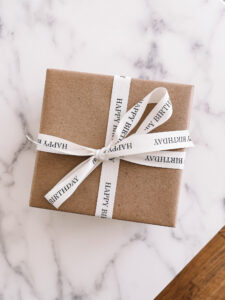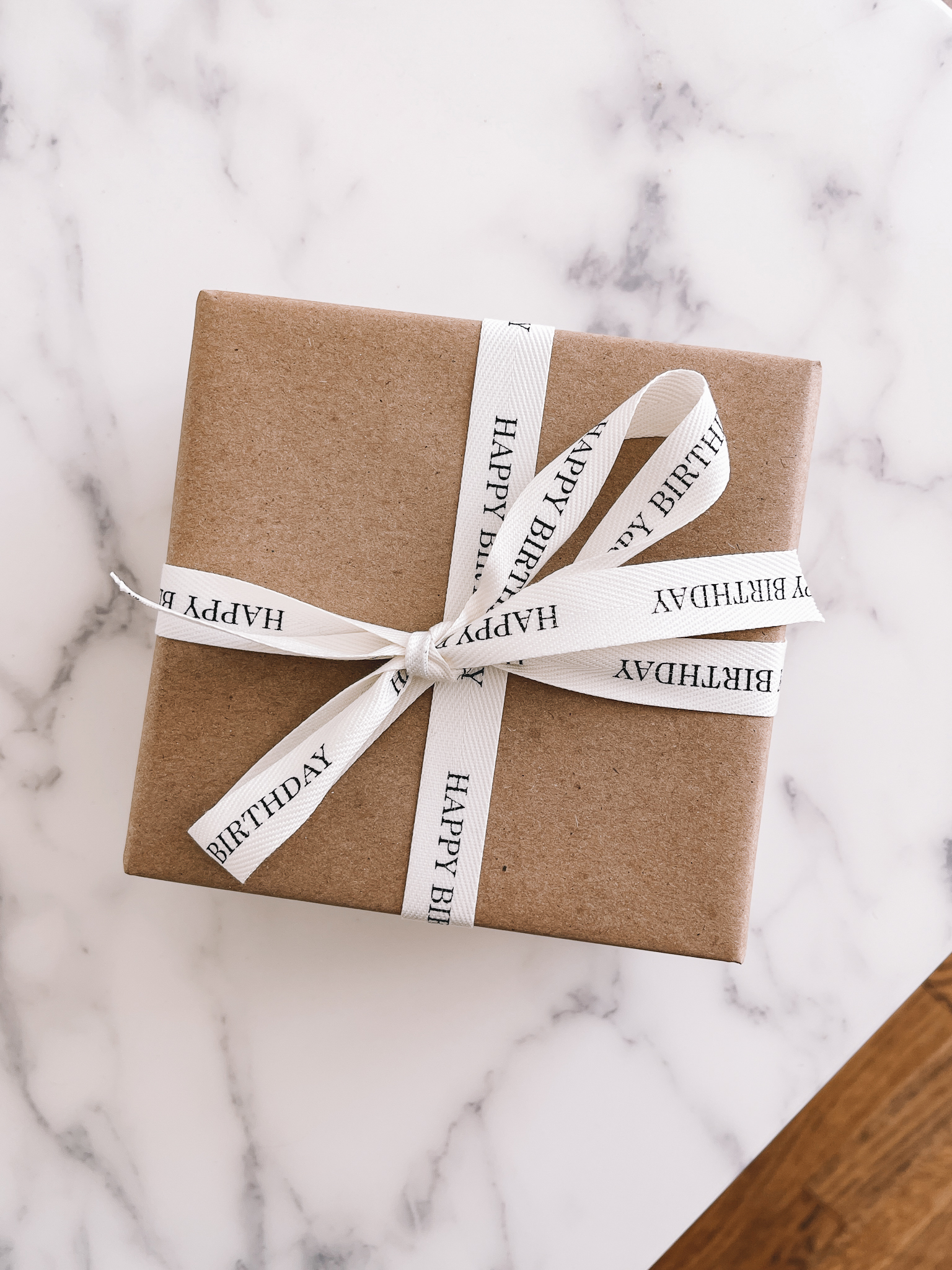 Minimalistic Ribbon and Kraft Paper
Hello! Here are the first 10+ things that come to mind today:
My most-worn jewelry: This Dana Rebecca necklace, this initial necklace, these earrings, and this bracelet. For special occasions, I wear this pearl necklace, these bow earrings, these clip-ons, these gold studs, these larger bow earrings, or an old crystal necklace. And that's pretty much all I own! Simple, simple, simple. I truly believe you just don't need much in terms of jewelry. (So glad the days of costume jewelry are gone! Too much to keep up with.)
Last week was great. I don't know! It was our first stretch in a long time as a family without someone being sick, and I just feel like it was a very positive week overall. I also think that our self-imposed fall travel ban (for the sake of sanity only, haha) has really helped. We're staying put, and that's encouraged us to just be, and enjoy it. I love fall in Chicago, and want to soak up as much of it as possible before winter hits.
We're visiting my grandmother and her lovely husband this coming weekend at their Wisconsin lake house! Okay, this is the ONE trip we're taking, but we're driving, so maybe it doesn't count? Ha. I'm really excited. My parents are flying in, and we're going to spend the weekend boating, eating great Wisconsin food, and playing games. We did this once a long time ago before we had kids and had a blast. Can't wait to create new memories there with Emma and Lucy!
I learned how to upload videos to my blog. Let's see if this works! Click play on the above video from Harper's birthday party. If it works, we're in business! If not, fail. I'll try again next week.
This minimalistic ribbon and this kraft paper has made gift-wrapping a lot easier for me. This year is all about simplifying. I honestly walk around my house daily and ask myself, "How could I simplify _____, and make life easier?" Eventually I found myself in the back room, where we keep the gift wrap. And I realized I owned so many wrapping supplies. Heck, I had ribbon for tiny holidays like Saint Patrick's Day! In the end, I decided to donate most of it and opt for Kraft paper, and a few different rolls of ribbons. (These are my fave.) The girls have a great time decorating the Kraft paper for whomever, and that makes it all the more personal and meaningful. It's also an activity. They spent a sold hour decorating a friend's gift a couple of weeks ago!
Recent Amazon Finds:

Home: These affordable scissors are beautiful and don't look awful when left out. I'm still astonished by how much more space we have in the girls' closets now that we use these velvet kiddie hangers. This stair basket will change your life. It has a top, too, so things never look messy—even if there is stuff waiting to be taken up or downstairs.
Beauty/self care: I've been using this stuff to fade particularly dark freckles on my face, and golly, it works! I enjoy this massager so much. It's such an un-Kelly thing, but I use it at night when watching TV or reading, and I feel so much more relaxed and at ease because of it. Highly recommend. If you have extremely dry skin, try this. It's pricey, but it'll heal skin in a matter of days.
Fashion: These are wonderful pajamas. They're so soft and cozy yet lightweight. They keep me warm during cooler nights and cool during warmer ones. These are the best ballet flats I've ever owned. They're totally unstructured, meaning there's zero break-in time. I have them both in the nude and the black. So good! I went a half size down. These are fantastic sneaker-boots that I wore constantly last year. Ridiculously comfy and warm. Definitely don't break them out until late November, but they're must-haves for me, especially when I'm running around with the kids.

This is the cutest (and most functional!) sick day product. Okay, you know how when you're sick, all the medicines and tissues and whatever else just kind of pile up all over the place, and your bedroom/bathroom starts to look like a sick ward? I have the solution! This little box is perfect. You can stash all the things that you need in it, and carry it around with you so you don't leave a trail of disgustingness behind you, haha. And it can be used by whomever isn't feeling well in your home. Putting some cute little surprises in there for them is extra thoughtful and makes them feel loved.
My brother build a gorgeous shed in his backyard totally on his own, and it has me wondering how we're related. It's so good! I can't wait to show you the final product. I really want him to move in with us and build us a covering over our deck so everyone stops getting sunburned. Patrick, feel free to come any time.
It's time to place your Bean Boot order! I swear by this flannel-lined pair for fall, and this shearling-lined pair for winter. (Keep in mind that I live in Chicago, so the flannel pair may be all that you need.) Bean Boots are timeless, and I will always love mine. (If you're a half size, size down. Otherwise order your normal size.)
Have you heard of the Notting Hill Shopping Bag? It's apparently sold at stands and stalls along Portobello Road in London, and the company that makes it often donates its earnings to different charities. I recently saw two different elderly women carrying it in Lincoln Park, and I was like, "Hmmm. I need this." (Thus confirming that I am a Coastal Grandmother for life?)
One Home Project Every Day:

I did returns, which means no more boxes in our home. It was a lot of random stuff! Under-the-jumper shorts that didn't fit, some tools that didn't end up being what we needed for projects, tap shoes that didn't fit Lucy… you know. Family stuff. But felt good to get them in the mail and out of our home!
I washed all the sheets. Phew. What a production. It just takes so long. And I really try to do them all once per week. (When it was just me, back in New York, I used to wash them twice a week! Just felt so nice.) But I got it done. I like doing it during workdays, because it's a nice little break to go make one of the beds.
I bleached our shower. It needed it.
I got the Oreo stains out of Lucy's favorite dress, but failed to get the stains out of Emma's favorite dress. Major grease stains from a pizza party. It's currently soaking in Oxyclean or however you spell it. Pray for us.
I tidied my office. It's the room that I always neglect! While it shouldn't, it can become a dumping ground very easily. Trying my hardest to stay on top of it this season because working in a clear space means working with a clear(er) mind.
I finished the trampoline project, just in time for… the cold. Oof, haha. But you know what? It's great. Because it'll be ready for next year! Final reveal coming soon.
I finished painting the kids' wooden kitchen toys and the dollhouse furniture that needed some TLC. Wow! I mostly painted them white, gold and pastel colors… and Emma and Lucy are in love. To them, they're totally new toys. How fun! They're also way more visually appealing.
The post 10 Things, 9/19 appeared first on Kelly in the City.